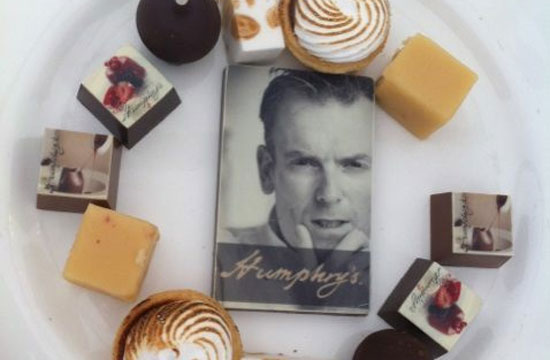 Look at this man whose face you are about to eat. This is Chris Wheeler, a former sous chef for Jean-Christophe Novelli in his restaurants and on ITV's Hell's Kitchen, and the current executive chef at Stoke Park, a very fancy restaurant in England.
Do you find it as disturbing as Britsh food writer Xanthe Clay did when she tweeted a photo of it out to the world? Because we sure do. It's a fascinating mix of bad taste, narcissism and ego, screen-printed on white chocolate atop a petit four.
"Good lord," she wrote. "Gordon [Ramsay,] you are so missing a trick."
We're wondering if Wheeler's heard about the Miami Cannibal and how not cool it is in the restaurant world to eat things like faces in its aftermath, but then we realized that such considerations probably didn't cross his mind as he was pondering the precise hand placement on his chin during his portrait session, to maximize how intriguing he'd look as a sexy dessert.
And while the entirety of the British food writing community is making fun of Chris Wheeler ("Perhaps the new collective noun could be 'a narcissism of petit fours'" tweeted Simon Majumdar,) we'll venture to ask: did it taste good?
…scratch that, we're not going to think about what it's like to eat a dessert with a chef's face on it. 
(According to Clay, the rest of the petit fours were good, but we presume she left the face cake untouched.)
[h/t Xanthe Clay]
Have a tip we should know? tips@mediaite.com