Justin Warner Live From GoogaMooga: Don't Just Instagram His Foie Gras Jelly Doughnut, EAT IT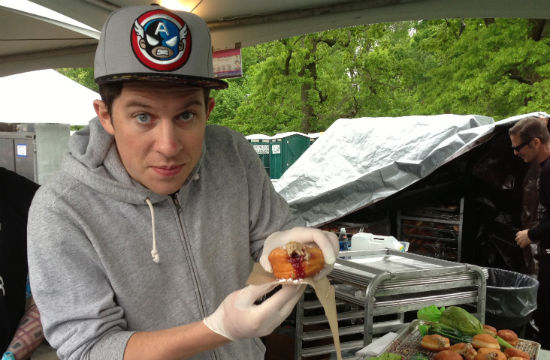 It's raining and chilly, but we have yet to hear of a Hunger Games-esque hangry mob devolving into chaos, plus, no one has succumbed to heat stroke, so there are significant improvements in comparison to last year's Great GoogaMooga. We managed to chat with Googa vet Justin Warner, whose Bed-Stuy eatery Do or Dine is back at the festival for its second year, serving up the infamous foie gras jelly doughnut.
Of course, one very important shift has occurred between last year and this year: Justin won Food Network Star Season 8 and churned out a Food Network roadie special called Rebel Eats. Translation: he's working his new fanbase with aplomb, and it's safe to pester him for a photo. Go ahead. He's friendly. You can check out our Q&A with him below to find out how this year's festival is measuring up to last year's notorious shitshow.
The Braiser: So this is your second Googa. How is this year going in comparison to last year?

Justin Warner: It's a lot more organized. It's almost tranquil. It feels like we're kind of partying, too. We're not slammed, and we can take breaks and do interviews and stuff.
Did you prepare any differently after last year?

Not really. We got a U-Haul as opposed to relying on friends, but other than that, really same set-up. Same by-the-skin-of-our-teeth doing it at the last minute. Same 'Oh my god, how do we fit 250 pounds of Welch's grape into piping bags this quickly?' You know, the us[ual].
Did you get slammed last year?
Yeah. Yeah, we were punked.
Were you in the camp that ran out of food?
Yeah, it was bad. We ran out within the first three-and-a-half hours. I mean, we got crushed. And I don't know why, specifically. But people bee-lined to us. This year is much more relaxed and we enjoy it that way, really.
It feels a lot more chill this year.
Yeah, so much more chill. And people are happy. I would rather serve happy people that people who are like, "Ugh, finally" [after waiting in line].
So you served foie gras doughnuts last year, and they're making a comeback this year. Why is that your go-to festival staple off Do or Dine's menu?
Totally. It's pretty easy to assemble, and it's also weird. People will like, stare at the sign, or get their picture taken in front of the sign, and then not buy it. We really like that. We had an Instagram line yesterday, where we set up a little booth for Instagramming.
Are you having a good time?
Great time. What's not to like?
Have a tip we should know? tips@mediaite.com