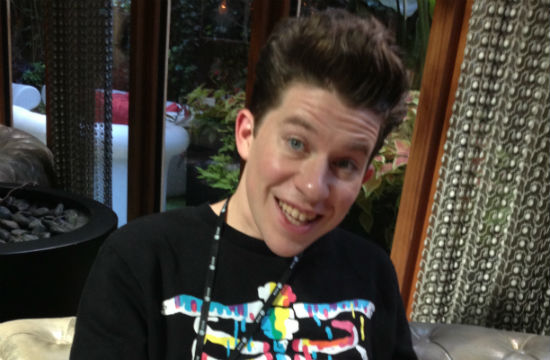 Food Network Star winner and fast rising Justin Bieber of the Food Network Justin Warner stopped by The Braiser Media Lounge this afternoon for one coffee and one Bud Light (ordered at the same time; he was on his way to his demo and these were his preferred prep beverages), and to chat with us about everything from the face lift he's giving the Food Network, to his lasting friendship with Martie Duncan, to his favorite rappers, to how he'd win a Celebrity Chef Hunger Games. Check out our Q&A below!
The Braiser: How much do you think being Team Alton had to do with you winning Food Network Star?
Justin Warner: It was huge. I mean Alton Brown has a lot of fans, but I think the timing with the whole thing coinciding with "the end" of Good Eats, people were left wanting more of him. And so I think there was a lot of connection between the end of Good Eats and the birth of…
Rebel with a Culinary Cause? Is that still the working title?
I don't know, it really depends on what we do with it all. I don't have a "License to Ill" just yet, but I can promise you whatever we do, the title will be fitting and it will be the biggest thing Food Network has seen in a very long time.
It seems like it's going to be a big face lift for Food Network.
That's how we roll. You saw me make over that stroganoff, you loved it.
Is there anything you can tell us about the show?
I'm trying to smell out a primetime spot. I don't know if that means I have to edge out some Triple D or what, but I'm totally going for a primetime spot.
You and Alton were obviously kindred spirits, but what were your feelings on Giada De Laurentiis and Bobby Flay and how they handled their teams?
Giada De Laurentiis is really an intoxicating personality. People can say whatever they want about Italian food, it doesn't matter. When Giada is in the room, it's all eyes, roll camera. So at times, it proved to be slightly distracting, especially when my teammates were like, "Ooh Giada…" I was like, "Yo, we gotta destroy her." And then Bobby Flay, he's the cook's cook, he's the chef's chef. When he's doing what he's doing he doesn't just do a lay-up.
Have you been mauled by fans at your demos? Are you becoming the Justin Bieber of Food Network.
Yeah, it's getting a little crazy. It is a little Bieber-y. I thought that Tyler Florence would have that role, and then my 12-19 female demographic… I was like, where was that in high school? And now it's hip to be square. It's exceptionally hip to be square.
You're also a little bit of a bad ass.
Thanks. I'm still kind of coming to grips with the whole thing. Being an expert, people respecting me. It's all very new.
Can you freestyle for us?
I'll recite a poem. [Recites "Bleezer's Ice Cream" by Jack Prelutsky.]
That was great!
Yeah, it's from The New Kid on the Block, which I am. It's a very fitting poem for today.
Did you make any friends on Food Network Star that you keep in touch with?
Martie Duncan! She and I text regularly.
Do you feel like Alton is your fairy godmother?
A little. The whole network, though, has really welcomed me in and been very supportive. Alton is very charitable with words when he says he just got out of my way. [He] helped me a lot. It's cool to be respected for what I am by professionals that are so professional at what they do. In twenty years, Food Network has gone from something that's like [shrugs] to something that's dominating lives. Or maybe it's just my life, but as far as I'm concerned, they're solely responsible for the reason anyone pays attention to food now.
Who are some of your rap icons?
Jay-Z, Kanye, Young Jeezy, Lil' Wayne, Yung Joc, MC Paul Barman — he's awesome. He's actually a literary scholar or something like that. Biggie, obviously; I'm from Brooklyn.
You talked at Overnight Success about how you got Pete Wells to come out and review Do or Dine. Is that a tactic you would recommend to people?
We already did it, so no. But I do think that having the meatball madness to be audacious to be poking fun at people in the PR line is definitely the right way to go. Especially if it's the right thing for your restaurant. We were an upstart, scrappy restaurant in Bedstuy Brooklyn. You think we wait in line? No. If I was opening the next Jean-Georges restaurant, I'd probably go through the proper channels. Time and place: it's crucial.
How much have you been hanging out with other chefs at events like this? Is this an opportunity for you cultivate chef bromances, or about you connecting with fans?
I am about fans. We're all colleagues in the sense that we're all competitive. I used to work for Union Square Hospitality Group. Absolutely I'm going to go for Shake Shack. and absolutely I will vote for the Shake Shack burger, but if I don't, I will vote for the Northman Grill burger [at the Burger Bash]. They're all my bros. Meatball Madness? City Grit was robbed and I thought that was the greatest one. Sarah Simmons came into my restaurant and said, "What's up?" So of course I'm going to be cool with her. But I'm not really into paling around. Andrew Zimmern gave me Dumdums and Gushers at Aspen a couple of years ago, and I was such a newb, I didn't know who he was. He was wearing boardshorts; he looked like a guy at the beach. So I didn't even know. I realized after the fact and was like, "Oh my god, I just got Gushers from Andrew Zimmern!"
If you were thrown into a situation in which some evil government threatened to take your restaurant away unless you competed on a cooking show of your choice, what show would it be and how would you win?
Well, here's the thing: Celebrity Chef Hunger Games. Do you remember the scene in The Hunger Games where they had all the nifty toys and weapons spread out and they're like, "Don't go in; it's a blood bath!" That's the pantry. The pantry is the cornucopia. On Food Network Star, and I think this applies to all competitions, everyone is looking for their shot of, "Oh my god, we've got to get to the pantry!" No one ever brings a cart or a table or a wheelbarrow with them. On Food Network Star, you didn't really get to see it because of editing, but I told my teammates, "Let them go in there and blood bath. What are they going to do? You can only carry one blender, there are three." We let them run in there, maul each other, we're going to take these rolly carts with the bread on them, put the bread on the ground, because we don't care. And then we'd move the rolly carts in and we would take everything. Everything. Things that people were not thinking of like finishing olive oil. Because that's what you think about at the end, "Oh, I could put some olive oil on this and that would be really nice," but not if Justin has all the olive oil. So then you move into bartering, negotiations, and that's when it really becomes governmental. Someone once told me that government is really just a management of resources. As far as culinary dictatorships go — sign me up.
If you could sneak into a room here at The Dream Downtown Hotel with anyone at NYCWFF 2012 for one hour, no questions asked about what went down, who would it be?
My girlfriend. She reads.
Have a tip we should know? tips@mediaite.com