Gunshot Shattering Window At Obama Campaign Office Part Of Troubling Pattern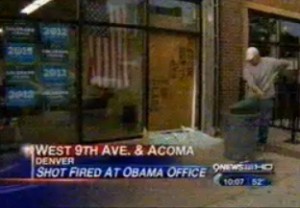 With Election Day just weeks away now, and just a week after a vandal spray-painted the words "Muslim Lier" on a banner outside an Obama campaign headquarters in Des Moines, Iowa, police are investigating a gunshot that shattered a window at an Obama campaign field office in Denver, Colorado on Friday afternoon. These incidents are part of a pattern with opponents of President Obama, who have engaged in various types of vandalism dating all the way back to then-Senator Obama's 2008 campaign, and continuing through passage of the Affordable Care Act, and today. From The Denver Post:
Police say someone fired a shot at an Obama campaign field office in Denver on Friday afternoon.

No one was injured, though people were inside the office when the incident occurred, said Denver police spokeswoman Raquel Lopez.

"It looks like it was one shot that was fired into the structure," she said.

The incident happened about 3 p.m. at the campaign's office on West Ninth Avenue near Acoma Street, Lopez said.
The Secret Service is referring questions on the shooting to the Denver Police, whose spokesperson, Raquel Lopez, told Mediaite that police are still investigating the incident, and was unable to say whether a bullet or other projectile was recovered at the scene.
This incident occurs one week after The Des Moines Register reported a less serious, but still troubling, incident at an Obama For America building in Iowa:
Someone vandalized an Obama campaign building in Des Moines by spray painting the words "Muslim Lier" on a large banner, police said.

The word "liar" was misspelled on the sign, officers said.

The blue banner is 16 by 8 feet and hangs on the south side of the building at 2307 Hubbell Ave. The words were written with red spray paint, police said.

The vandalism occurred sometime between 11:30 p.m. Wednesday and 10 a.m. Thursday, when it was discovered, police reports show.

The same message was reportedly spray painted near the Iowa State Fairgrounds earlier in the week.
This type of "protest" is popular among President Obama's opponents. During the 2008 presidential campaign, there was a rash of anti-Obama vandalism, but the Obama team made a conscious decision to downplay those incidents to avoid escalation. In the run-up to the election, one Obama opponent even vandalized her own face.
In 2010, a campaign of vandalism also attended the passage of President Obama's health care reform law. About a year ago, an Obama campaign headquarters in Los Angeles was vandalized, while, in August of this year, another Los Angeles Obama headquarters was vandalized by Occupy protesters, who smashed the office's windows, reportedly while shouting "leave marijuana alone."
Update: 10/16/2012 Denver Police Detective John White now confirms, to Mediaite, that "we found one round inside the headquarters. No one was struck, no one was injured, and there's no one in custody yet. This is an active and open investigation."
Here's KUSA Denver's report on Friday's shooting:
Have a tip we should know? tips@mediaite.com