Khristianne Takes Us Behind The Scenes Of Her Millionaire Matchmaker Switcheroo, Dishes On Ignoring Malarkey
Khristianne Talks Her Millionaire Matchmaker Switcheroo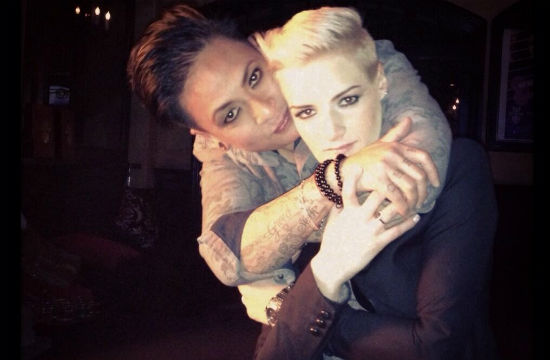 Much to our delight, we learned at the beginning of this week that Patti Stanger would take her inaugural swim in the lady pond on Tuesday night's episode of The Millionaire Matchmaker with The Taste winner Khristianne Uy. Okay, so Patti wasn't taking the plunge herself, but she was setting up her very first lesbian Millionaire's Club member, who just so happened to be a successful lady chef, which we still felt pretty triumphant about.
Of course, to keen, reality TV-trained eyes like our own, we instantly recognized one of the girls in the episode preview as Khristianne's current girlfriend Brittany Wiener, who appeared on the Season Finale of The Taste to celebrate her ladylove's win. "How fun!" we thought. The Taste winner found her match on Bravo. We gleefully tuned in and waited for romance to unfurl.
But wait. Khristianne didn't wind up going on a date with Brittany. In fact, she barely spoke to her and took two other girls on mini-dates instead. In fact, Patti had no idea Khristianne and Brittany were even an item, tweeting at Khristianne after the episode aired, "Rumor has it your new gf was the blonde from the mm mixer, is that true boo?"
Instantly, our producer-conspiracy Spidey senses perked, and we set out to investigate what went wrong and how the happy couple came to be (also investigating along the way why in god's name Patti Stanger is so bad at lesbians).
We managed a chat with Khristianne to get the scoop on how exactly the experience played out off-camera (spoiler alert: it involves a pissed off Patti). She also weighed in on how she thought The Matchmaker handled her first lesbian mixer, and, of course, we got in a few words on her Taste mentor Malarkey (specifically, why his co-mentors seem to be ignoring him…). Check out our Q & A below!
The Braiser: Can you fill in some of the gaps for us of how you wound up reconnecting with Brittany after your Millionaire Matchmaker episode wrapped?
Khristianne Uy: It was just shortly after, because, after we had finished shooing [the mixer], Brittany kind of snuck up in the back room and said goodbye to me. And it so happened that I had one last business card in my back pocket and I gave it to her. And so she literally just called me that night, right when we were leaving set, and we were just going back and forth.
Did you feel a spark with Brittany from the get-go? Was there any sort of producer/Patti interference nudging you towards picking other girls for your mini-dates?
Actually, you know when Patti presents the millionaires, like, "Here's my millionaires!" — something like that? She got really pissed, because right when I walked in, I knew like, half the girls! She was like, "What the fuck?!" She goes, "She knows half the girls here!" So you know how TV goes, it wasn't going to be so exciting if [I picked someone I already knew] and we just ended up talking about our friends, and our usual events we had been to together.
I see, so you picked the two girls you didn't know from the bunch for your mini-dates?
I absolutely didn't know them. I had never seen them, I don't know where they came from, I didn't know if they were really gay, nothing.
And the other girls you had met before?
Uh-huh.
Well, of course you wound up knowing half the lesbian population of LA.
Yeah.
So do you feel like Patti overlooked a typical pitfall? She was so excited about you being her "first lesbian Millionaire." Did she seem like she had a knack for it, or was it obvious to you that she was less experienced matching women than straight couples or gay men?
As far as the gay man or the hetero couple, she's good. She's the matchmaker. But as far as lesbians go, it's new ground for her. I don't want to say she's "less experienced," but it's new ground. She did well. Fast-forward, Brittany and I have been dating 10 months now, and we actually live together.
Congratulations! How did you feel about the group of girls Patti had wrangled for you? Do you feel like she picked up on your "type" or would you have chosen different kinds of girls for your mixer?
I think Patti's really good about taking in what you would like, but then, I guess, turning it around and saying, "Listen, there are other options and alternatives. Maybe, just maybe…" You know, I'm always looking for the long brunette hair, Natalie Portman-kinda girl, but Brittany's an edgy blonde girl, which is like the opposite, so it all worked out!
Let's pivot to The Taste for a minute. One of the things we've been noticing is, as the mentors have been providing commentary after the show, Nigella Lawson, Anthony Bourdain, and Ludo Lefebvre have been conspicuously ignoring Malarkey's involvement. And he won! Why is no one talking about Malarkey?
Isn't that so weird? And during the auditions, no one even wanted me! And Malarkey gave it a shot, and so it's so ironic that we both won. You know, people were making comments like, "Malarkey? Top Chef finalist? Who? Like, who the fuck is Malarkey?"
Here's a funny story: for the auditions, there was this dude, and he didn't get picked by anyone. And [as he was leaving], he was like [to each of the judges], "Thank you, Chef. Thank you, Chef. Thank you, Chef. Thank you, Malarkey."
So what was your personal experience with him as your mentor like on the show? Have you kept in touch with him?
Well, throughout filming, he would definitely favor the men. And I was the only girl — well, half a girl (laughs) — on the team. He kind of just favored them all throughout, and then towards the end, he saw, oh my god, this girl can really kick ass. And [by that point], I didn't pay much attention to him anymore, because I just kind of walked into it midway-through like, "You know what? He favors the men. Fuck it. Go on my own here," which made me kick ass even more.
We've kept a good relationship. In fact, I'm doing three appearances at three of his restaurants next week, and we're doing a duo kind of tasting thing.
Any other fun projects in the pipeline you can tell us about?
We're currently working on a cookbook. I'm still with Charlie [Sheen]. I think we're extending our catering business, as all these plugs are on reality TV. We still want to cater to the elite, but we want "Chef K" to have everyone taste our food, pretty much. We're extending to cater to everyone, to the masses.
[This interview has been edited and condensed.]
Have a tip we should know? tips@mediaite.com