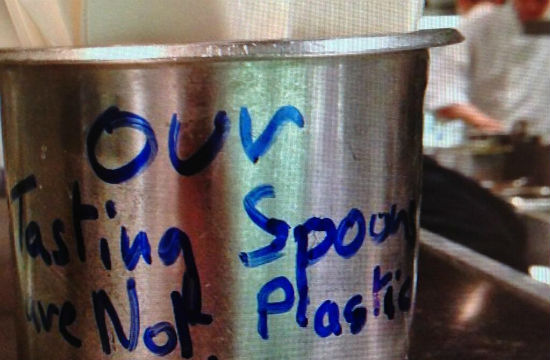 Twitter: Along with setting the record straight on his alleged cook humiliation techniques on the line at Le Bernardin, Eric Ripert would like us to know that his tasting spoons are sustainably made of corn starch, and not plastic. Duly noted.
Zagat: In a lengthy interview with Zagat, Ed Lee calls the category of "New American" cuisine "as benign as it is vague," along with other scathing tidbits, like how he's looking forward to the slow season at his restaurants, because he's just so busy. #TopChefProblems
Huffington Post: Susan Feniger just validated all of our choices during study abroad with this single quote from her interview with HuffPost Travel: "When I travel, if I don't see a historical site, I'm okay. The much more rewarding experiences are the ones with people in their kitchens. My memories when I travel are ones with people, not with the monuments." Yeah, guys, museums are boring.
Food Republic: Tom Colicchio visited our nation's capital to advocate for food policy changes like GMO labeling and oversight for livestock antibiotic use. Heads up, Whole Foods. He's a man on a mission.
Grist: A crusader of the green lifestyle, writer Elisabeth Kwak-Hefferan went vegan for a whole month and lived to tell of her experiences. She learned that cheese is delicious (we didn't need to go anti-animal to know that), that convenience foods are not really convenient for a vegan, and cautions against going "cold Tofurky". It's hard out there for a vegan, y'all.
New York Post: Happy Birthday, Grand Central Oyster Bar! The iconic bivalves bistro turns 100 today and Bartender Alex Dimitropoulos recalled some of the celebrities who've binged on brine since he started there in 1976. Like, the time Chris Farley ran around the restaurant pantsless (RIP), or Chris Rock, in his career's infancy, adorably didn't know what to order.
Have a tip we should know? tips@mediaite.com