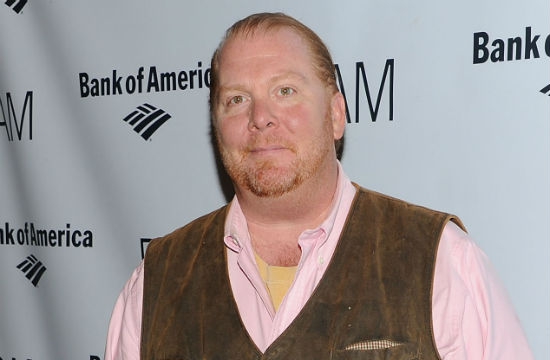 GrubStreet: Mario Batali can't help his 'terrible' face. But he wants you to have a nice day, anyway.
Huffington Post: Ever wonder what would happen if you plied a toddler with half a cup of vodka? Thanks to this Hawaiian cruise line, we know the answer. Related…
Serious Eats: …DRUNK GUMMIES! So you, too, can feel just like that drunk three-year old.
The Daily Meal: The very first Nobu location on the Vegas Strip is underway, along with the world's first Nobu Hotel. Beware, Chef Matsuhisa…the trashy Midwestern Sex and the City wannabes and Hawaiian shirt-wearers are coming…
Eater: From Ferran Adrià's brother Albert comes a cocktail-bar-turned-tasting-menu-only-restaurant in Barcelona called 41 Degrees, complete with an audiovisual installation called Frosted Rain. Check out the video. It's oddly captivating.
The Atlantic: Taco Bell has already sold 100 million Doritos Locos Tacos, AKA, the taco encased in a shell made of Dorito. While we'll never be properly hydrated again after discovering this, here's the nutritional breakdown of the fast food abomination in question.
New York Daily News: Former Governor Mario Cuomo's wife Matilda still cooks him dinner "from scratch" every night. Suck on that, Sandra Lee.
San Francisco Gate: A $3333.33 ice cream sundae is now the world's most expensive, complete with three syrup toppings made from rare dessert port wines, an ice cream spoon from the 1850s, and a cellist who performs for you while you eat it. Face, meet palm.
MSNBC: Disney promises to stop advertising junk foods that don't meet minimum nutritional requirements. But they'll still going to serve Mickey Mouse-shaped pancakes at Cinderella's Castle, right…?
Forbes Magazine: Alex Stupak and the Lefebvres land on Forbes Magazine's list of most successful restaurant power couples. In other news: Guyssss, remember when Gwyneth Paltrow and Brad Pitt were a thing?
Have a tip we should know? tips@mediaite.com