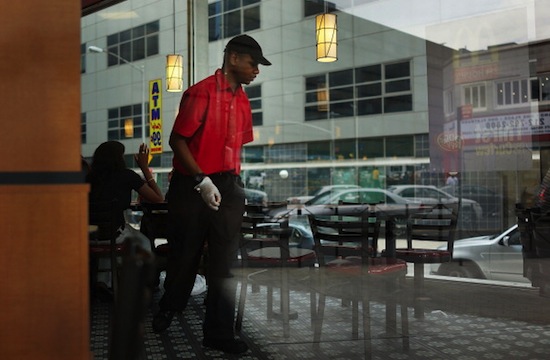 The New York Times: Our words won't do it justice, so a passage from this story on fast-food workers living on $7.25: "There are 55,000 fast-food workers in New York — more than the entire population of Harrisburg, Pa. — and most … are struggling to stitch together a living in an industry where the median wage is $8.90 an hour. Last year, fast-food workers in Manhattan earned average pay of $19,000 — or about the cost of [a] Honda. In Brooklyn, it was $15,500; on Staten Island, less." Tough words to chew on, especially given the season.
CNN: W're just now catching this story on Richard Blais' weight loss, and are unsure how we feel about it. Weight loss stories in general give us an icky taste in our mouths, but we do give Blais a lot of credit for going about his weight loss naturally. "It's OK to have a cheeseburger; it's OK to eat food, but it's important to have a healthy relationship with the food you eat," he said to CNN — thank God, because we love cheeseburgers.
Associated Press: The hugely popular New York attraction, Sleep No More, is adding a restaurant — we want to go to there.
Complex: You guys, stop wearing Google Glass to restaurants. No one likes them. (We're talking to all 10 of you out there who own them, of course.)
Contact Music: Don't worry guys, Miley Cyrus isn't a monster. After making a scene at an "upmarket eatery" in New York (let's take guesses which one), Cyrus immediately apologized to a couple — and paid for their tab — after they complained. Moral of the story: complain about celebrity disturbances ALWAYS.
Have a tip we should know? [email protected]