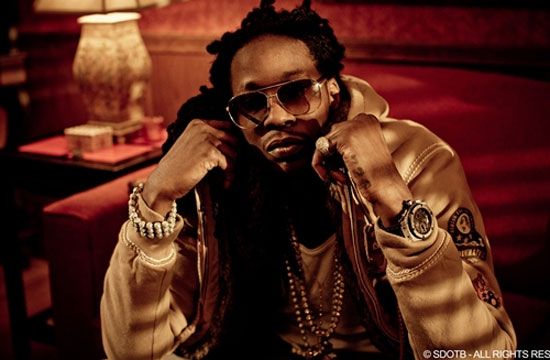 Grub Street: Remember how 2 Chainz has a new cookbook? Here are some of the best instructions from his work of art, as well as some food porn, and this quote: "2 CHAINZ DOESN'T WRITE DOWN HIS MUSIC, IT FLOWS NATURALLY FROM HIS MIND." WE GET IT, 2 CHAINZ. COULD YOU PLEASE PASS THE GREEN BEANS?
New York Times: Ruth Reichl has finalized the details on her first of three novels to be published by Random House, titled Delicious!, and scheduled for a May 2014 release date. It has some downer World War II themes, so, James Beard Award? Probably.
Eater NOLA: The makers of quirky craft beer MechaHopzilla got slammed with a lawsuit by Toho, the production company that owns the copyright to MechaGodzilla. And to be fair, they have a point. Someone could easily confuse the two — after all, they both smash Japanese businessmen. (High five!)
Huffington Post: Some poor man was served a burrito rolled with the ingredients stacked vertically, like a Life Savers roll, instead of lengthwise, like a burrito. Luckily for us, that man is filled with dark, enraged humor, and so he wrote a rant about this burrito-maker, which is likely to make you chuckle/pee a little in fear.
Fightland: MMA fighter and mad scientist Ottavia Bourdain attempted to get her husband, noted hedonist and non-exerciser Anthony Bourdain, into jiu-jitsu. She succeeds…maybe a bit too well.
Eatocracy: Kat Kinsman did her job today and reported on the history of chicken washing. You're not supposed to do it. Don't do it. We know Julia Child did it. She was wrong. Go read Kat Kinsman's report, please. It's well-researched and we're tired of this debate.
Have a tip we should know? tips@mediaite.com