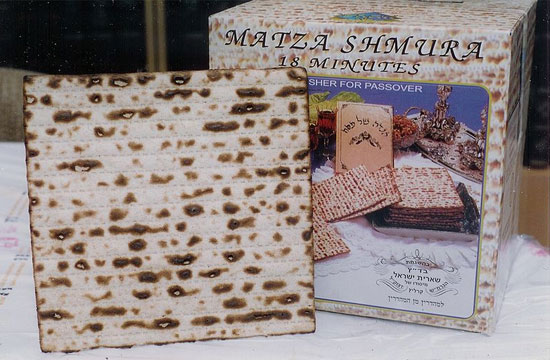 Tasting Table: An artisanal matzo from Vermont (known, quirkily, as "Ver-matzah") apparently tastes really, really good, since it's made with heirloom grains. According to our resident Jewish editor, however, that's completely against the point of matzo: "The whole point of matzoh is it's symbolic of the Jews' exodus from Egypt, when they didn't have time for their bread to rise and thus, had to eat crappy flatbread while fleeing in the desert. Making it artisanal with hand-selected grains is completely besides the point. Way to go, hipsters."
Businessweek: Meet Salah Bala, a Libyan entrepreneur who once noticed that his family couldn't get enough of the rooster sauce whenever he brought bottles of Sriracha back to Benghazi. Now, he's selling Sriracha in Libya, proving that no matter how many insurgents a country has, there are some instruments of American capitalism that cannot be held back, like Sriracha, or Cinnabon.
Eater: Though she admitted that an April opening was optimistic at best, Alice Waters sent a letter to her devoted customers estimating that Chez Panisse would possibly open on the first week of June. "We are, of course, working as quickly as possible and may be able to open earlier," she advised. "We will update as the rebuilding progresses." Welp. Now we just have to wait. UGH WE'RE BORED ALREADY JUST REOPEN DAMN IT.
Vice: Juicing destroys marriages, you guys. Like this one, in which a husband and wife watched Fat, Sick, and Nearly Dead together, and then almost divorced when one of them didn't get on the juicing kick.
New Yorker: The first paragraph of this grousy little Arlington Club review is everything that's wrong with New York restaurants, at least, according to Jay Rayner.
Bon Appetit: Ever caught yourself wondering what it would be like to be bifs with David Chang? Check out this lengthy profile of Australia's up-and-comingest chef Ben Shewry to find out!
Have a tip we should know? tips@mediaite.com