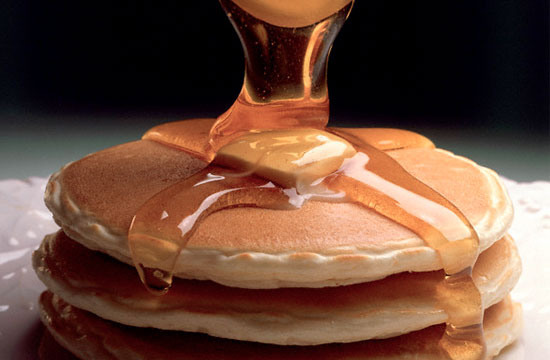 Serious Eats: For everywhere else in the world that isn't Party City (ahem, New Orleans and Brazil), it's Pancake Tuesday, celebrated as a way to use up all the delicious lard in one's pantry before Lent rolled around. Go over and learn how to make some pancakes, maybe bacon pancakes. Take some bacon and you put it in a pancake. Bacon pancaaaakes.
Gawker: John Alleman, the self-proclaimed, unpaid spokesman for the famous Heart Attack Grill, died of a heart attack after a lifetime of eating the world's most calorific burger, appropriately named the "Heart Attack Burger." How much money would it take for Alanis Morissette to sing at his funeral?
Grub Street: Speaking of money, it costs approximately $1284.73 for a dinner for two at Masa, which Justin Warner was oh so conveniently reminded of when the purchase triggered an alarm on his credit card. On the one hand, Chase deserves a round of applause for their rigorous anti-fraud consumer protection policies. On the other hand, sure, Chase, keep reminding us that we dropped $1284.73 at Masa.
Facebook: This is how Grant Achatz's Aviary celebrates the New Year's: with circus performers and clowns and a swami. While we're not surprised that this is how Achatz rolls, it does beg the question: where the hell did they find a swami?
Huffington Post: The Japanese have discovered that when you pour soy sauce on a dead cuttlefish, it will squirm around in an uncomfortable mimicry of its living movements, as if it's a reanimated Frankenfish. Naturally, they've incorporated it into something edible. Oh, Japan.
Bon Appetit: Here are the twenty most influential restaurants in the country, as chosen by the editorial team of Bon Appetit.  The list includes stalwarts like Le Bernardin, Alinea, and Momofuku, but also boasts some surprising entries like Shake Shack. Gander over there if you want to agree, disagree, or disagree vehemently.
Have a tip we should know? tips@mediaite.com