Last Call: Every Southerner Who Builds A Dream Mansion Is Instantly Ryan Gosling From The Notebook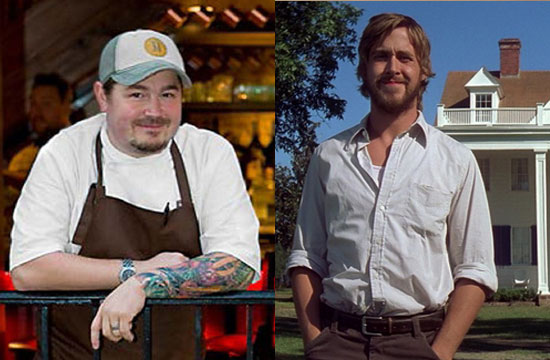 Food Republic: Sean Brock fills us in on the progress of Husk Nashville, which he's housing in a beautiful, dilapidated, 130-year-old mansion. But as he talks about rebuilding and refitting the mansion to fit the needs of a restaurant, we realized: Southerner? Rebuilding an old mansion with his own hands? Is he Ryan Gosling?!?!?!??!?
Huffington Post: Art Smith sat down with HuffPo at his Big Gay Ice Cream Social in South Beach and dished on why he was taking the gay marriage fight to Florida. As of right now, the plan is to convince everyone to legalize gay marriage with fried chicken. This plan has no flaws.
The Guardian: Pippa Middleton has officially joined the ranks of — gulp — food writers. It turns out she snagged herself a column in Waitrose's monthly magazine entitled "Pippa's Friday Night Feasts," which will feature "casual dining ideas and recipes." Clear eyes, full bum, can't lose.
Grub Street: It might be poor timing for this trend to take off, but both Nobu Matsuhisa and Geoffrey Zakarian have paired up with different cruise lines to offer special dinners, cooking demonstrations, and general fan meet-and-greets. This, of course, all on the heels of the Top Chef Cruise which sets sail this April. Finger crossed all around for disaster-free sailing.
Public Policy Polling: Here is a poll of the favorite foods of Democrats and Republicans; or, a poll made by pollsters who are really tired of thinking about the sequester. What else explains findings like "Democrats are the party of bagels (34%) and croissants (32%) while Republicans prefer to eat donuts (35%)"? Boredom. On the other hand, this is a goldmine for lazy late night comedy writers.
Gawker: When we saw that South Africa reportedly found animal burgers in their food supply, we were shocked: no one told us that South Africa would get In-N-Out before New York ever would! Then we kept reading and realized that "animal burgers" actually referred to the fact that their burger meat contained real animals, like donkeys, goats, and water buffalo. Whatever, we're still mad at In-N-Out for never coming to the East Coast, ever. (Don't you come near us with your Shake Shack kisses, Danny Meyer! It's not the same!!!!)
Have a tip we should know? tips@mediaite.com