Charles Saatchi Uses Teenage Daughter to Smear Ex-Wife Nigella Lawson; Accuses Cooking Star of 'Illegal Behavior'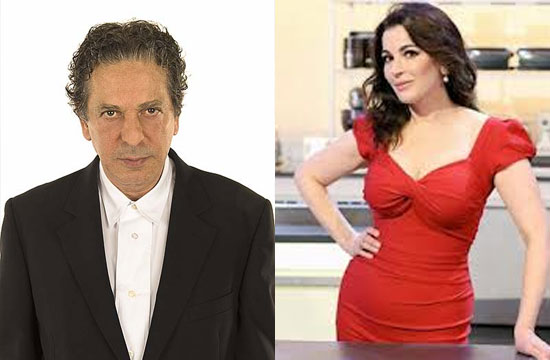 If one happens to be an art mogul brazen enough to choke one's wife/beloved cooking star in public, we can only assume that one would also be foolish/insane enough to attempt a smear campaign in the British tabloids and think it would work — by using one's teenage daughter as a media pawn. Are we talking about Charles Saatchi's divorce lawsuit against Nigella Lawson? No, we're talking about that other lawsuit. Of course it's the Saatchi-Lawson divorce rabbit hole.
The Daily Mail, England's premier tabloid of tabloid-iness, recently received a phone statement from Saatchi's 18-year-old daughter Phoebe Saatchi, claiming that her stepmother Nigella had "abandoned" her — a statement made while Saatchi was in the room. According to the tabloid, he called the publication, then literally handed the phone to his daughter to make this statement:
"Nigella has not spoken to me since she left our house on that Sunday when the newspaper story appeared. She has behaved in a very cold-hearted way.

"She has been my mother since I was seven or eight and has just abandoned me."
The UK Mirror then reported that Phoebe told an unnamed Sunday newspaper of Lawson's involvement in "potentially illegal behavior," claims that the paper itself found unsubstantiated and refused to print, but were made with her father's full knowledge.
While we certainly can't report as to whether Lawson is or is not involved in criminal enterprises, we know one thing for sure: Saatchi trotting out his teenage daughter in front of the media to smear his ex-wife, especially since the divorce agreement contained a confidentiality clause, is such a sketchy, unclassy, revolting move that we just can't.
Also, let us not forget that Saatchi choked his wife in public and called it a misunderstanding. This is turning into a Really?! sketch from SNL, except with domestic violence, which, really.
RELATED:
Nigella Lawson Allegedly Attacked, Choked By Husband In Front Of Diners
Nigella's Husband On Choking Incident: Nothing More Than 'A Playful Tiff'
Nigella Lawson, Charles Saatchi And The 60-Second Divorce Hearing
Have a tip we should know? tips@mediaite.com