Macy's Drops Emeril's Line While Coincidentally Suing Its Owner Martha Stewart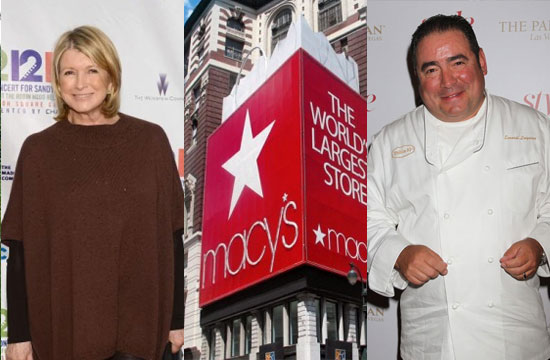 In the middle of a lawsuit between Martha Stewart Living Omnimedia and Macy's, the department store decided that they'd use their time in court to let Martha Stewart's legal team know that, by the way, they were coincidentally dropping the Emeril Lagasse line of cookware from their stores — which happens to be owned by MSLO.
This unfortunate event, announced a day after the Macy's Inc. chairman, president and chief executive officer Terry J. Lundgren testified that he was "sick to his stomach" over MSLO's decision to break their exclusivity agreement with Macy's and sign a concurrent deal with JCPenney, purportedly had nothing to do with the lawsuit at all. Instead, they claimed that the Emeril brand was underperforming — a fact that the MSLO legal team did not know.
The MSLO legal team also apparently did not know that Macy's was dropping Emeril — until they announced it in the middle of the trial. As Women's Wear Daily reported:
During a brief break, the team was overheard confirming among themselves that they had "no idea" Macy's severed ties with Lagasse and that they couldn't believe the retailer would do that only a day after Lundgren appeared on the stand.
Do you believe that this is a completely petty suit? Because Judge Jeffrey Oing totally believes so, as he (eye-rollingly) said when MSLO argued that a "store-in-a-store" that just so happens to be inside a JC Penney totally constitutes a standalone store and, therefore, isn't a breach of contract: "I'm going to let the cat out of the bag — I'm not so sure there's any ambiguity in this contract," he said, apparently tired of the bickering between the two sides.
The only loser: Emeril, who was doing so well in other aspects of his life, too.
[Women's Wear Daily, subscription required]
Have a tip we should know? tips@mediaite.com