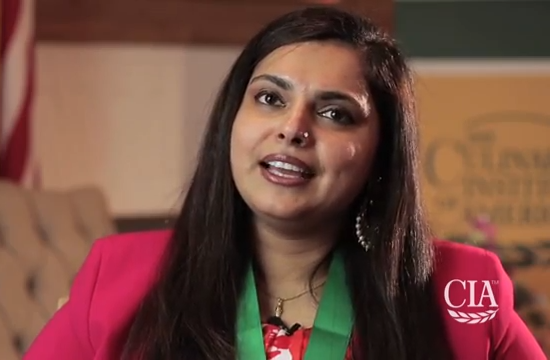 The consummate celebrity chef (Chopped Judge, Iron Chef-testant, philanthropist, cookbook author, and regular on the New York and Chicago food scenes), Maneet Chauhaun is taking a surprising next step — getting off the tube and into the deep south for her forthcoming restaurant project. We dedicate a lot of space on this site to giving due praise to the women in the food industry, which makes us jump at the chance to announce a big move from one of our fellow estrogen creatures. This week at an exclusive event, Chauhan spilled that she'll be breaking ground in Nashville, TN on a new restaurant this summer.
Details are scarce on the new project, but so far we know that it will be called "Chauhan" and that the chef will partnering with The Status Group, which consists of Anthem co-owners Moni Advani, London Parfitt, and Austin Ratliff.
Last September, Rohini Dey, owner of Vermillion where Chauhan has been executive chef, talked to us about the chef's ambivalence towards taking a position of power.
"Even when I opened Vermilion in Chicago, I was interviewing chefs, and the chef that I finally chose to go with [Maneet Chauhan] – I met her, I did a tasting with her – she gave me a list of her male colleagues that she suggested should be executive chef. And I literally asked her, "Why aren't you nominating yourself? Take this job for yourself!"
Take that position she did, and Chauhan led Vermillion — in New York and Chicago — to great success. She has served up her signature fusion of Indian and Latin cuisines, earning nods from Time, Travel & Leisure, Bon Appetit, Gourmet, Town & Country, and pretty much the rest of the food-writing world. After graduating at the top of her 'batch' at the Culinary Institute of America, Chauhan made a name for herserlf in some of India's finest kitchens, including the Taj Group, Oberoi Hotels and Le Meridian. She has competed on Iron Chef (but lost to Masaharu Morimoto), and is taking perhaps the final step in her celebrity chef maturation process by announcing her very own restaurant venture. We'll be sure to share updates as more details surface on Maneet's Nashville plans.
Have a tip we should know? tips@mediaite.com