Marc Vetri's Life Wisdom: Don't Try Becoming A Chef Unless You're Willing To Work For It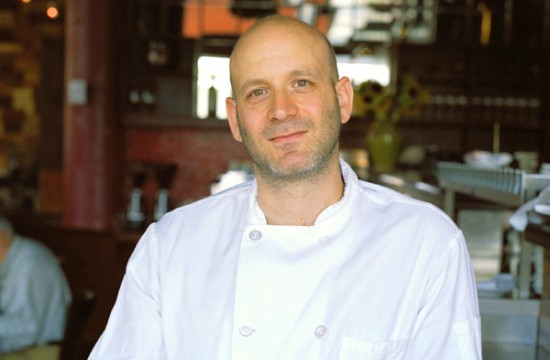 It's Friday, and that means that it's time to sit down by yourself and think about what decisions you've made in your life and why. We know. It's heavy, but Marc Vetri of his eponymous restaurant in Philadelphia is here to help you out with some tough lovin'.
Though this advice in today's Huffington Post applies more (okay, exclusively) to young chefs who want to break into the restaurant world (for one, he doesn't care if you spent months harvesting ants at Noma; he "would prefer to hear that you cooked at a bar for the last three years and can make a medium-rare hamburger like nobody's business"), plenty of his points can apply to you, normal non-chef person — it's just that young baby chefs need to pay attention to this more:
3.) Work ethic and attitude is everything.

It's the only thing that matters. I would take a less knowledgeable cook with a great attitude and work ethic over a talented prodigy with pissy attitude any day of the week. It will always make for a better team at the restaurant. I can't tell you how many amazing cooks have been through my kitchens and simply have not made the cut because of their attitude. And guess what? Three, four, five years later those cooks are still line cooks. They still complain about how much everybody else sucks around them. If you're a line cook at 25 and still one at 35, it's time to look in the mirror. I can guarantee that YOU are the problem not anyone else.

4.) Learn the basics.

I once had a young cook who used to bring in modern Spanish cookbooks because he wanted to make things like mango caviar eggs and chocolate soil. I told him, "Hey, how about you learn how to blanch a goddamn carrot first, cook meat to a correct temperature, clarify a broth and truss a chicken? Once you can do these things then, and only then, should you try to learn these other techniques." Trust me when I tell you that José Andrés is a master of the basics. You should strive to be one too.

5.) Don't ever think you're above learning from anyone.

I learn from my staff as much as they learn from me. And I am inspired by my staff probably more than they inspire me. You can never stop learning, and if you think you can't listen to a busboy or dishwasher in order to learn how to do something better, you're dead wrong.
Most importantly, don't go in it because you wanna be a TV chef: "Do us all a favor…stop…turn around…and just go away."
His reasons, and other crispy sage advice, can be found below.
Have a tip we should know? tips@mediaite.com