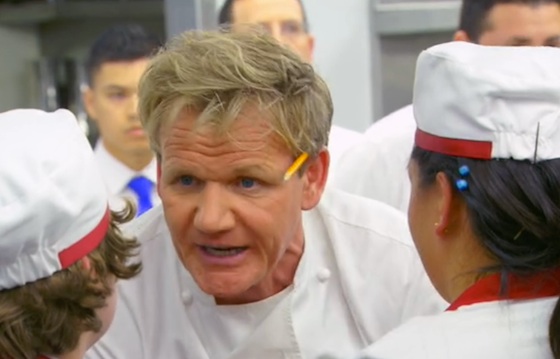 Only six kids left! Time flies when you're whipping up layered cakes, we guess. We didn't cover last week's MasterChef Junior, as we were too busy whipping around NYCWFF, but we're back in action after (sadly) saying good bye to Jayden and Sofia. (You all know how we feel about Jayden and Sofia.) Now, the kids are putting the big man pants on and line cooking at LA's Drago Centro — because there's nothing that these kids can't do. (They can probably do our taxes, at this rate.) But shit really did get real cooking in the restaurant; in some ways — anger, frustration, the slightest tinge of nastiness that you expect from some hard-ass adult chefs in the kitchen. So this week's most adorable moments from MasterChef Junior's Restaurant Takeover Insanity:
1. Adorable from the get-go: Dara's outfit. Take me shopping, Dara!
2. Sarah says she's been cooking for six years — she's 9. How do you cook at age 3?! Cereal? What appliances can you use in the kitchen at age 3? Is there some sort of toddler cooking class trend that we're unaware of?
3. While the executive chef shares how to make each of the two appetizers and entrees, Gavin pipes in: "These dishes are not salami and cheddar cheese…" Ha, no Gavin. No they are not.
4. Gordon Ramsay's near eyeroll after rattling off the first order: "Yes, Chef." Let's do this, kids!
5. Alexander versus Dara, Troy versus Sarah. It's slowly turning into chaos, basically — throwing salt on the fish, cutting the tuna too thin. These kids just grew up into adults, real fast. We almost expected some major shit-talking, eye-rolling, and sassing that we'd regularly see on MasterChef.
6. Troy dumps the seasoned branzino garnish, saying it's too peppery. Yikes! Sarah's voice gets more and more high-pitched as she gets frustrated, which doesn't help when Troy snaps back, "I'm trying to do what you messed up." Gavin eventually gets sidelined to the undereffective Dad on the team (like that parent who can't quite tell the toddler to zip it and settle down). This devolved into…
7. Sarah's near-tears when confronted with Ramsay's father-like intervention. But it's (obviously) much saner and kinder than his normal, spit-in-the-face interventions on the real MasterChef. In fact, all of Ramsay's interventions during the takeover were very father-like and surprisingly, uh, tender. He knew how to explain why teamwork and communication was crucial to the competition. This is shit you learn outside the classroom. (Side note: where is Joe Bastianich and Graham Elliot during all of this? We get that Joe's gathering the feedback, and Graham's helping out in the kitchen, thanks to a few shots in the background. But man, this was really Ramsay's solo.)
8. The bright spots of the insanity of the restaurant takeover? Jack comes out on top; he was killing it making that branzino. And Gavin, while maybe not the most effective team leader, is the most positive of the kids. Maybe he could be a life coach some day.
9. Cheers with apple cider! Standing ovation from the diners! You have to admit, that's pretty adorable, if not downright bizarre. Genuine surprise? A women freaking crying? Ok, surely this was set up, right? Sarah nails the adorable reaction when asked how it went in the kitchen: "Now if something is taking too long in a restaurant I'm never going to say anything!" Well said, Sarah.
10. Sarah and Gavin are heading home, and the tears are flowing, at least from Sarah. Of all the contestants, she's probably taken the elimination the hardest so far. Did Troy's toughness secure him the fourth spot in the semi-finals? Will it be enough to win the competition? Just don't get in the way of his branzino.
RELATED:
Tonight in Food TV: MasterChef Juniors Take Over LA's Drago Centro for Lunch Service
WATCH: MasterChef Junior Becomes the Sarah, Dara, and Kaylen Show (Finally)
WATCH: The Competition Gets Tougher, Meaner (Ish) on MasterChef Junior
Have a tip we should know? tips@mediaite.com