WATCH: Eric Greenspan Delivers Blistering Richard Blais Diss In Melt Master Outtakes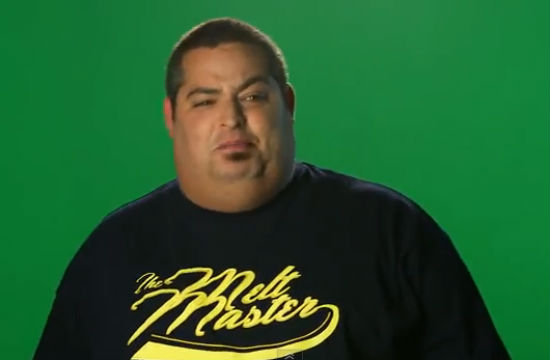 The Melt Master wrapped its inaugural YouTube season, which means that we're jonesin' for a fix of our favorite vaguely anti-lady, definitely humorous in other areas, self-proclaimed neckless Chef Eric Greenspan. Luckily, Tasted Channel was sensitive to our needs and delivered a compleeeetely hilarious outtakes vid of Melt Master's maiden voyage into the stormy web seas.
Commenters are called out. Ladies are macked upon (almost). And Eric's Tasted Channel arch nemesis, Burger Lab host Richard Blais, has a vicious smackdown laid upon him: "You find another chef who can deliver a fucking line like that. I'm sure you THINK Blais can do it. Blais can't fuckin' do it. Too busy sous vide-ing…freeze drying shit."
Listen to us, Eric. Please never do network television again. YouTube is where you belong, amongst our people. You are too funny for that milquetoast network with all the Taco Bell shows. You are flawless and we love you.
Check out all the outtakes, followed by a complete list of the first season below.
RELATED:
WATCH: Eric Greenspan's New Show Marries Crab Brains And Grilled Cheese, Is Perfection
WATCH: Eric Greenspan Compares Doughnuts To Fake Boobs; We're Both Aroused And Furious
Eric Greenspan Takes Melt Master To Compton: 'Smoke Bread, Every Day' (VIDEO)
WATCH: Eric Greenspan Drinks The Scorpion At The Bottom Of A Mezcal Bottle
WATCH: Eric Greenspan's Fried Chicken-Inspired Grilled Cheese Requires Buttermilk Facials
Eric Greenspan Learns Something New In K-Town: 'If It Fits In Your Mouth, It's Too Small' (VIDEO)
WATCH: Gang Culture Aficionado Eric Greenspan Compares Homies To Bread
Have a tip we should know? [email protected]