WATCH: Ming Tsai Dances With Carla Hall, Exchanges Barbs With Michael Symon On The Chew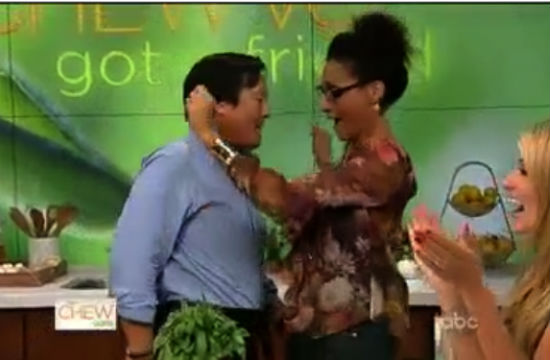 Despite the fact that The Chew is hosted by chefs, and therefore, has a bit more wiggle room in the way of shit-giving, things got unexpectedly heated between co-host Michael Symon and guest-host Ming Tsai, who was filling in for Mario Batali. The Chew is, after all, a family show, but Ming and Michael got into some late-night-level snarkery (which makes this our new hands-down favorite episode of The Chew ever, natch).
It all started off friendly enough with Clinton Kelly gently ribbing Michael for his lame dance moves. Ming seized the opportunity to smoke his co-host by getting down with Carla Hall. And we're talking down. Homeboy was buck. We'd take him to prom. Just saying. Check out their dance below.
Things ventured below the belt when Michael used the word "foshizzle" as a unit of measurement in cooking (eg., a foshizzle of olive oil).
"That's not a word," Ming muttered under his breath, which caused Carla to crack up and Michael to insist that it's, in fact, an ancient Italian word. Ming conceded that it could be an ancient Chinese word, and felt it out by uttering "foshizzle-san" while bowing, before acknowledging that, no, actually, that would be Japanese. But it's all the same thing, right (his words, PC police, not ours)?
And while we're on the topic of China vs. Japan, Ming wondered, did Michael, like Mario Batali, believe in his heart of hearts that pasta came from Italy, when in fact, it originated in China? Michael did, and Ming swiftly and deftly called shenanigans. Check out the clip below. (The word "bull" is thrown around — envelope-pushing for daytime!)
Later, Michael gets it in the deepest and most personal of burns for insulting Ming's people: his hometown sports team. We don't know anything about sports, but we do know a few Cleveland sports fans and they are none too happy when you make fun of their (apparently tragic) sports tradition. Ming is blessed with hailing from Championship Sports Team-graced Boston, and he pulled the baseball card on poor, Cleveland Indians-stricken Michael. Check out the clip below.
Have a tip we should know? [email protected]