New Ranking Of Highest-Grossing Restaurants Makes Us Never Want To Be a Restauranteur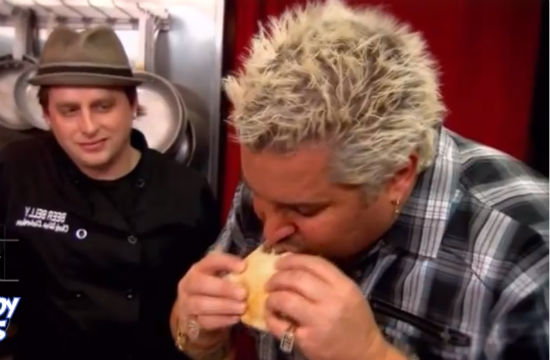 It's time to face the facts: if you want to open a restaurant that is a) not ginormous, b) not in Las Vegas, and c) does not serve donkey sauce, you are not going to ever be a millionaire. Sorry to disappoint.
Lots of feathers are being ruffled over a new report of the highest-grossing restaurants in the U.S., mainly because, uh, well, the top 10 list reads like a restaurant's critic worst nightmare. Sure, they're all big and lavish and expensive (we've only eaten at one of those restaurants, we can assure you that it was a gut punch to our wallet), and also not the culinary heavens you might think. The top 10 highest-grossing restaurants in the country:
Tao Asian Bistro (64,600,000 in sales); Las Vegas
Joe's Stone Crab ($35,324,729 in sales); Miami Beach
Old Ebbitt Grill ($26,687,861 in sales); Washington D.C.
Smith & Wollensky (25,470,115 in sales); New York City
Lavo Italian Restaurant ($24,000,000 in sales); Las Vegas
Prime 112 ($23,345,678 in sales); Miami Beach
Tao New York ($22,770,515 in sales); New York City
Gibsons Bar & Steakhouse ($22,397,732 in sales); Chicago
Buddakan ($21,500,000 in sales); New York City
Joe's Seafood, Prime Steak & Stone Crab ($21,000,000 in sales); Chicago
And not too far out of the top 10 moneymakers is Guy Fieri's Kitchen & Bar, sitting at no. 16. Making $16 million a year. How do you feel about your life now?
Sure, it's not a total culinary wasteland going on here: there're Mario Batali's Del Posto and Carnevino, and there's Daniel Boulud's (now only one-starred) Daniel. Wolfgang Puck is on the list, obvi, and Jose Andres. Tom Colicchio's Craftsteak graces the list, and so does Morimoto. Other than that, you're going to find a lot of crab shacks and Vegas joints on the list.
What's the takeaway? The chefs we love to flaunt and praise and heap awards and stars upon are not millionaires. Good thing, because the best of the best don't do it for the money. (Chris Cosentino got that right.) Not that this list is really all that accurate anyways. Eater points out that the numbers are mostly self-reported, and that many restaurants don't share that kind of information publicly. So breathe easy-ish, and know that Guy Fieri will always make more money than you.
RELATED: And the Most Affordable City for Food Is …
Yelping the Best Restaurants In the World: Eleven Madison Park
New Study Confirms What We Already Knew: It's a Hard Knock Life for Chefs and Restaurant Workers
Have a tip we should know? tips@mediaite.com