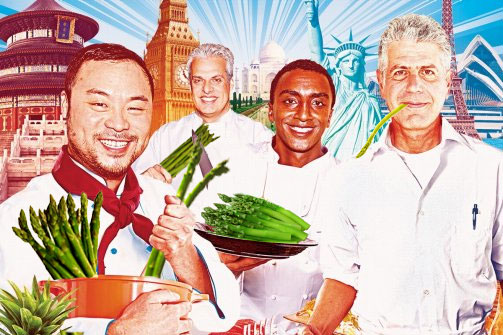 Landing a spot on Restaurant Magazine's World's 50 Best List is an accomplishment for any chef, sure, but Newsweek recently rounded up a bunch of celebrity chefs to help them compile their list of the World's 101 Best Places to Eat (you know, for the phallic asparagus edition), which, apparently, don't even have to be restaurants at all. (Unless you count an old woman sitting on a stool making polenta in the streets a restaurant. We thought not.) Here are six of the glowingest reviews we came across from a few expected spots and some off-the-beaten-path joints, too.
Jamie Oliver on street food in Bari, Italy:
"There is a very old woman—I think she has just one tooth—and she sits on a low stool with a pile of polenta that looks like a stack of gold bars. In front of her is a cauldron of hot oil. She clanks up one of the bars, deep-fat-fries it, and serves it in a paper cone with sea salt. Amazingly delicious."
…Does Greasy Sae peddle polenta on the streets of Italy in real life?!
Guy Savoy on Le Relais Bernard Loiseau in Saulieu, France:
"I arrive on Sunday afternoons so I can see the lunchtime diners leaving and say to myself, that's going to happen to me tonight! I did all of my basic training alongside [the late] Bernard Loiseau, so that creates indelible links. Every time I go, I have the impression that his soul is there. The words are very hard to find, but you see why I love the place…those old beams, those old doors, the exceptional cuisine by his wife and chef Patrick Bertron's team."
No, it's cool, Guy. You definitely found the words.
Tim Love on London's Borough Market:
"They fry everything in animal fat for crispy goodness."
Of course that's what the guy from Texas says. Also, stop making us want to run away to the Olympics more than we already do.
Gabrielle Hamilton on Daniel in New York City:
"I had such an incredible dinner at Daniel that he may have singlehandedly salvaged my opinion of fine dining…Expert, delicious, exciting, and very, very beautiful. No palate fatigue whatsoever! We asked to have wine paired, and it was the best pairing I've ever had."
No palate fatigue! (Best backhanded compliment ever.)
Andoni Luis Aduriz on The Fat Duck in Bray, Great Britain:
"I recall with special affection meals at The Fat Duck. I like the ambiance, the team, and above all the gastronomic approach—brilliant, bold, and tremendously stimulating to the senses. The dish Sound of the Sea will be in the history books of gastronomy."
We want to go to there.
Marcus Samuelsson on Cuz's Fish Stand in Barbados:
"It's a fish shack with a line out the door. From a cook's point of view, everything is wrong with their sandwiches, like the cheese on them, but they're so delicious."
Cheese on fish?! Blasphemy.
You can check out the full list here.
Have a tip we should know? tips@mediaite.com