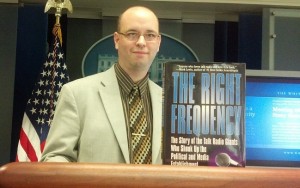 Fred Lucas, White House Correspondent for the conservative Cybercast News Service (CNSNews.com), has just published his first book, The Right Frequency, which is a historical examination of the rise of right-wing talk radio. Yesterday, at the White House, Lucas explained why people should buy his thoroughly-researched book, whether they're Rush Limbaugh fans or not.
In addition to reams of research, the book contains original quotes and interviews from major hosts and industry insiders, including Bob Grant, Bill Bennett, Michael Medved, and Lars Larson, as well as Mark Fowler, the FCC chairman during the Reagan administration who helped dismantle the Fairness Doctrine.
Fred and I have been friends and colleagues for several years now, and while we have have wildly divergent points of view, he has always impressed me as an honest reporter with a good-faith interest in politics. The portion of Fred's book that I've had a chance to read bears that out. In a chapter about the difficulty that liberal or progressive radio programming has had in gaining a foothold, Lucas offers some real insights, while acknowledging the successes of hosts like Thom Hartmann, Ed Schultz, and our pal Bill Press.
One such insight is the notion that conservative media are capturing an audience that's underserved elsewhere. "There is, at a minimum, a strong perception that the news media leans left," Lucas told me. "It's rather overt in the entertainment media. Talk radio draws a conservative audience because it's the only medium completly dominated by conservative thought. A lot of Americans would argue that talk radio is equal time — equal time to the rest of the media. What's the point in having liberal talk radio when the liberal view is not tough to find elsewhere?"
A lot of this territory was covered exhaustively by Bill Press in Toxic Talk, but Lucas manages to offer fresh observations, without the derisive partisan snark you might expect. If the rest of the book, which is enthusiastically blurbed by the likes of Dick Morris and Mark Levin, is this strong, it's well worth the purchase.
At the White House yesterday, Lucas took a few minutes to pitch the book to Mediaite readers (and writers):
Follow Tommy Christopher (@TommyXtopher) on Twitter.
Have a tip we should know? [email protected]