Everything You Need To Know About Anthony Bourdain's Final Ep Of No Reservations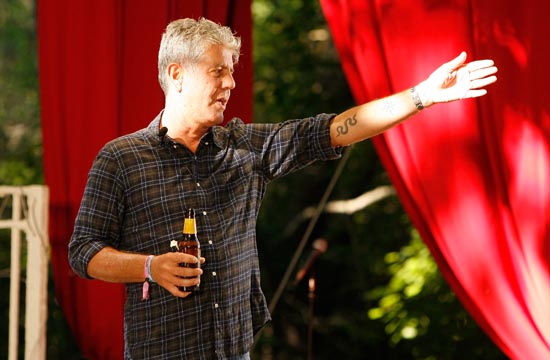 Are you a Cool Person? Do you want to be the Cool Food Person that knows where all the Cool Food Places are in Brooklyn, and do you want to tell all your New York friends where to eat? When they hesitate because those places sound too real and too street for them, do you want to be able to whisper conspiratorially "Don't tell anyone, but Anthony Bourdain filmed his last episode there and no one knows about it yet" and watch them abruptly go to town on some obscure mystery meat, because said restaurant is now cool?
Then you've come to the right place! More information is trickling out about the episode, which should air sometime next year and probably serve as the series finale to our beloved No Reservations. Bourdain told the New York Daily News that the trip, prompted by chefs around the globe raving about Brooklyn's food culture, "was an attempt to embrace the features of what makes the Brooklyn picture."
Some of the places which met the exacting standards of the Zero Point Zero production team: Roberta's of Bushwick (which is hipster by virtue of being a pizzeria in the land of HBO's Girls), and the three-Michelin starred Chef's Table at Brooklyn Fare in Boerum Hill, which he coyly called "the best that I've had in New York in a long time" and left it at that.
But this is Anthony Bourdain, and it can't be No Reservations without highlighting things both off the beaten path while utterly, definitively Brooklyn. In Soviet immigrant-dominated Sheepshead Bay near Brighton Beach, he tried an enormous pile of deli meats from Jay and Lloyds Kosher Delicatassen on Avenue U, as well as a lobster fra diavolo ("boiled crustacean covered with spicy red sauce") at Randazzo's Clam Bar, where he'd been multiple times as a child.
And we've covered his jaunt to Gloria's Number 3 in the Trinidadian neighborhood of Crown Heights with Wire stars Michael K. Williams and Jamie Hector (and can personally vouch for the awesomeness of their roti and fried plantains), as well as Allans's Quality Bakery (which we cannot vouch for…yet.)
So that's six places out of a purported eight restaurants. Where are those last two restaurants in Brooklyn? On Sunday, Frank Falcinelli of Prime Meats tweeted at Eric Ripert and Bourdain, thanking them for "coming by", as did the restaurant's own handle. Ripert was Bourdain's date to Chef's Table, so it seems likely that Prime Meats, which has garnered no shortage of buzz, is the seventh locale. Dangit, Bourdain, tell us the eighth! We want to be Cool People, too.
Have a tip we should know? tips@mediaite.com