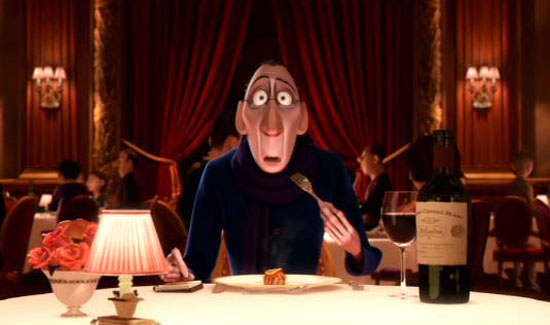 I suffered an miniature existential crisis during the third bite of a wild salmon course at Le Bernardin.
The first bite brought me to a slow stop, as the world around me — the Alan Richman roast I was supposed to cover, the questions I was supposed to ask, the quotes I was supposed to grab from all the celebrity chefs in the room and place in a slideshow — all dimmed, outshone by the taste of truffles, butter, morels, a salmon too silky to be flesh, too firm to be silk. More surprising was that the second bite was as good as the first. I've had plenty of great First Bites, and then the rest of the dish just peters out. This was the first time — the very first time — that each bite was amazing, over and over and over.
I can't tell you precisely what ingredients hit my palate in which order. I can't tell you what sort of Proustian memories the dish conjured. But I can tell you that I wondered: what now? How am I supposed to chase these guys and ask for banal quotes — "Hey David Chang! What are your Top Five favorite ways to say the word 'fuck'?" — when the reason that I'm covering them is because they can do…well, that?
(I come from DC! All my subjects were bastard hacks! No one is ever astounded by a politician!)
It was after a really confusing night sitting in Times Square that I finally got it — that is, I finally got why we started this site, why we're tracking how chefs move around in the media, and why The Braiser needs to exist.
I have eaten very, very well so far in my life, but this is the first time I've had food directly from the staff of a celebrity chef. And in this instance, it fundamentally changed how I, Normal Writer Nobody Person, view Eric Ripert. Before that first bite, Ripert had been embedded in my mind as a Gallic Fish God by very good television production companies, his peers on those television shows, lesser reality show cast members, and plenty of writers, critics, and bloggers, some more sincere than others. He seemed affable and he had a French accent; ergo, I, like others, liked him and believed what was said about him. It was that meal, that plate, that convinced me that Ripert earned every word of that praise. I liked him before. I respect his talent now.
But if I weren't lucky enough to now work in food media, I'd only know Ripert as an authoritative chef beloved by the restaurant industry. And yet I'd still watch him, and still like him, because that's what I did a month ago. I know that dozens of my friends do around the country do, and they're people who list dinners at Le Bernardin (or Per Se, or Daniel, or Eleven Madison Park, or any place run by a famous chef) as a life goal, either before they die or after they win the lottery.
Those friends of mine who love Ripert? They hate Gordon Ramsay, because he screams too much and has far too many television shows, and his flagship restaurant is an ocean away. On the other hand, some of my friends have different priorities and think that Ramsay's vast media empire equals culinary prowess and will make plans to go to one of his lesser restaurants in the States. The people of Boston are generally annoyed by Todd English, and most of them have never eaten in his restaurant. (We Bostonians are annoyingly opinionated.) I don't know off the top of my head how many people nationwide love watching David Chang make appearances on Late Night With Jimmy Fallon, but it's exponentially more than the number of people who will ever get to go to the Ssam Bar. And my mother, settling down into retirement life in the suburbs, will always love watching Rachael Ray and Guy Fieri, no matter my opinions to the contrary, because Rachael comes into her living room during the day and makes her smile.
"What I've always said is at some day in your life, you have to not just taste the food of the chef, but the food cooked by the chef," Richman told me after the event, in between greeting his friends. "So that should be your goal. Not just to go to a place where the chef's name is on the restaurant. Go to an event, or a moment where the chef is cooking the food. And that's where you'll experience what great food is. Because so many of these chefs with the big names are so now divorced from the food. They're so far from it. But believe me, not one of them got to the place they are without being great."
That's not the case anymore. Everyone who cares about chefs ultimately cares about their food, and will undergo a hajj to these restaurants or try to replicate their food at home — but this is after they see them on TV, read about them on blogs, laugh at a clever tweet, or stare at pictures of their butts.  The food may have elevated them to stardom, but that's not how we mere mortals, learning to do more than boil water, primarily experience and know them anymore.
And I guess that's where we come in. Yes, we're a website that focuses on the celebrity side of chefdom. Yes, we're bitchy and toothy and occasionally laudatory, but we're ultimately here to cover the personalities behind the food, since the chance to experience exactly what makes these chefs great has become exponentially more difficult over the past few years.
I was lucky, that one night, to discover that Eric Ripert is a genius — not just for his food, but for maintaining a respected image in the media while running a phenomenal restaurant — and found myself unwilling to do my normal snarky jig. So I did the only thing that was appropriate, the only thing that fit my experience of the night: I humbly shuffled up to Mr. Ripert and stuttered an ineloquent, inartful, blushing "thank you" for dinner.
Have a tip we should know? tips@mediaite.com