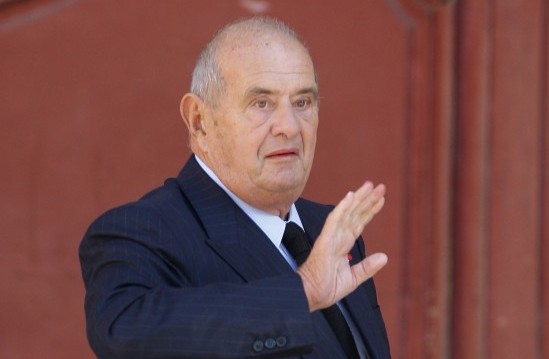 Late on Sunday evening, the food Twitterverse in America exploded with rumors and a purported obituary that legendary chef Paul Bocuse passed away. Except he totally didn't. Seriously. It's a hoax! (Nor did Joel Robuchon and Alain Passard hold a lookalike contest to find his replacement.)
After noticing that none of the major newspapers in France carried the story — which they would, since Bocuse is the Steve Jobs of French cuisine — food writer Elizabeth Auerbach, who was in France at the time, confirmed with his eponymous restaurant that Paul was not dead. "They're very unhappy with the rumours [sic] on Twitter about his death," she reported. Paul Bocuse would have been 86 this year, and probably will be 86, because he is TOTALLY NOT DEAD.
That didn't stop famous chefs, from Andrew Zimmern to Scott Conant, from instinctively retweeting the news and eulogizing France's paradigm-shifting chef. Hey, it's not like this type of Twitter news flash hasn't happened before.
But when the news broke that it was a hoax perpetrated by a site called Necro-pedia, a wiki where a bunch of tasteless people write anticipatory obituaries of celebrities (and also may infect your computer with malware), the public mourning turned into an angry tweet mob.
Eli Kirschtein and Conant (who deleted his offending tweet) both called the rumor "terrible" and "horrible". Zimmern, who had many fond memories of the chef and his food, tweeted harsher words. "What a bunch of fuckwits. Contemptible."
So everyone: please, please, please put away your tributary Instagram tweets of you cooking sole meuniere, and stop reading his cookbook backwards to look for hidden messages confirming his death. Instead let's follow David Chang's suggestion on how to deal with the entire thing: "Instead of bad Bocuse rumors, let's ruminate on this."
Have a tip we should know? tips@mediaite.com