Paula Deen Asked Her 'Soul Sister' & Cook Of 22 Years To Dress Like Aunt Jemima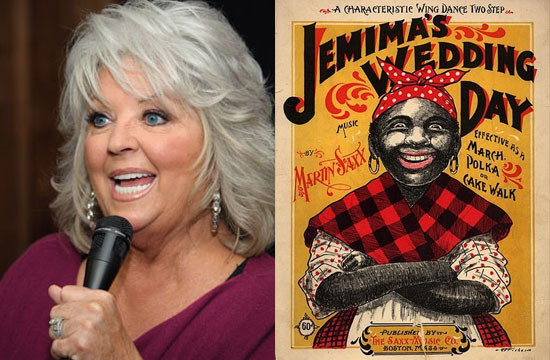 In the best illustration of the delicate, complicated, and historically-rooted nature of the Paula Deen racism scandal, the New York Times reported on the life of Deen's original business partner, the African-American Dora Charles. The woman who helped open Lady and Sons, Charles is very important to Deen's career — the celebrity chef once said she never served any Southern food "unless it passes this woman's tongue" — but claims she never got to share in Deen's fortune. Beyond that, she reveals that, among other problematic behaviors we've covered extensively, Deen's penchant for wanting her black workers to dress as slaves began a long time ago.
Over her 22 years working for Deen, Charles was considered her "soul sister", and the two planned on splitting their wealth if they hit it big. "Stick with me, Dora," Charles says Deen told her, "and I promise you one day if I get rich you'll get rich." Not only did Deen fail to make good on that promise — Dora Charles now lives in a trailer — she also saw Deen throw around racial slurs, and requests for her and other black employees to re-enact, shall we say, antebellum practices:
Once she wanted Mrs. Charles to ring a dinner bell in front of the restaurant, hollering for people to come and get it. "I said, 'I'm not ringing no bell,'" Mrs. Charles said. "That's a symbol to me of what we used to do back in the day."
And while ringing a bell can be seen as just evocative of slavery, but there's no confusing employees being asked to dress like minstrel show archetype Aunt Jemima while making hoecakes.
[Fellow Coworker Ineata] Jones was also in charge of making hoecakes, the cornmeal pancakes served to every guest. Ms. Deen had designed a station so diners could watch them being made. At both jobs, Mrs. Charles and other employees said, Ms. Deen wanted Ms. Jones to dress in an old-style Aunt Jemima outfit.

"[Jones] didn't want to hear that," Mrs. Charles said. "She didn't want to do that."
But when Paula Deen wasn't pretending to run Colonial Williamsburg, Charles admitted, they were close and had a good relationship — just not one that was financially equitable. Part of the reason that Charles has filed a lawsuit against the Deens was that Lisa T. Jackson, the woman who initially sued the Deens, told her that she was being paid less than white kitchen staffers, though Deen "appeared to love Mrs. Charles."
"It's just time that everybody knows that Paula Deen don't treat me the way they think she treat me," Charles said to the Times.
[NYT]
Have a tip we should know? tips@mediaite.com