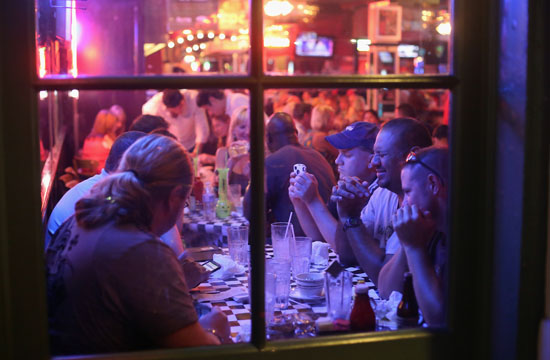 One of the great success stories from post-Katrina New Orleans is the rise of its restaurant industry: a hotbed of talent and skill, the industry not only boasts a smattering of culinary stars (John Besh, Donald Link, Sue Zemanick, Susan Spicer, and countless others), but also employs more people in restaurants than anywhere else in the country. According to the New York Times, ever since 2005, NOLA's restaurant industry has grown by a staggering 70% and shows no signs of stopping.
There's one hitch, though. While the restaurant industry is booming, the actual population of New Orleans is shrinking: a 2011 estimate from the US Census revealed that New Orleans lost 29% of the city's residents in the past decade.
Counterintuitively, a shrinking population doesn't spell the potential end of the restaurant boom:
Economically speaking, the restaurant boom is a barometer of a city that is more affluent and more educated than it used to be. "Richer cities have more restaurants per capita," said Jed Kolko, the chief economist of Trulia, the real estate website, who said New Orleans already ranked 14th in the nation on restaurants per person in 2010, just a few years into the recent boom (San Francisco was No. 1).

At the same time, the high concentration of restaurants here has built on itself, as chefs are attracted to a city where eating out is so popular and the most successful ones expand. In that sense, it represents an industry cluster along the lines of the financial industry on Wall Street or high technology in Silicon Valley. More than 10 percent of the jobs in the metropolitan area are in the restaurant business, compared with an average of 8.2 percent nationwide.
However, a strong restaurant industry does not a solid economy make, and the racial makeup of New Orleans is skewing heavily white:
One big question is whether the city's newfound prosperity will stick or slip away as the rebuilding activity tapers off. The city still lags in education and employment for some segments of the population, particularly black men.

Though tourism is a mainstay of the local economy, restaurant workers make low wages, and officials are looking to investments like a $2.2 billion medical complex to provide good jobs for the future. New Orleans is one of the nation's top cities in export growth, fueled largely by oil and gas. Tax incentives, as well as the city's status as a liberal cause célèbre, have attracted film and television crews to New Orleans — their spending nearly tripled from 2008 to 2012.
(And those tax incentives are the only reason that Top Chef finally came to New Orleans after eleven freaking seasons. Seriously? Miami?)
Months ago, Besh suggested that while the influx of chefs may be good for the economy, the diaspora of native New Orleans residents meant the dilution of  Louisiana's culinary culture. This may be what he meant.
[NYT]
RELATED:
Chefs Decry Sacrilege That Is New Yorkers Wearing Rubber Gloves To Eat Crawfish
WATCH Leah Chase Talk About Hurricane Katrina on Top Chef, We Dare You Not To Cry
John Besh: 'There's No Way Of Sustaining New Orleans Food With A Bunch Of White Guys From The Suburbs'
Have a tip we should know? [email protected]