Last night Restaurant Startup premiered on CNBC, and in this first episode, they were right on trend. Both teams who pitched to Joe Bastianich and Tim Love were going for the anti-steakhouse steakhouse, a concept that has had some recent success in New York (we're looking at you, Bowery Meat Company and Quality Eats).
The first team that came in was made up of Vinny Accardi and Trevor McGrath, best friends, roommates, and owners of Room 55 in Glendale, Queens. Bastianich and Love were immediately impressed with the food and with Accardi, but disappointed in the restaurant's relatively low earnings in its first year. They were also sort of weirded out by Trevor, who acted like kind of a sidekick who worked for free. In reality, he did the books and ran the front of house. They were asking for $375,000 for 25% Equity ($1.5 valuation) in the new concept, which would be called 55 Steak.
Next up, Mike and Laci Midgley. Their restaurant was only four moths old and they were making a lot of money, but they wanted to expand quickly and the investors weren't as impressed with the food. They picked 55 Steak, and gave them $7,500 and 36 hours to make it happen.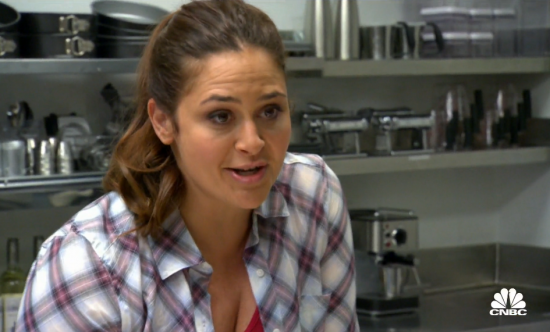 In the kitchen, we get to see Antonia, who acts as the liaison between the investors and the contestants. She loves the food, but tells them they need to decrease portion size in order to make more of a profit and get an investment. They rework the menu to make it a small plates style steak house with a neighborhood feel. The decor is industrial, and has about ten too many pictures of Accardi and McGrath on the walls, but it sort of works. They hire a staff and get ready for opening day.
The staff is pretty much immediately an issue. When the investors come to check on how everything is going, the meat is butchered improperly and the cuts of meat are too big which decreased profit. Accardi somewhat dramatically fires the responsible party. Service goes well overall, and the food turns out awesome. The best part is how much Joe Bastianich hates Trevor McGrath. The guy literally makes his blood boil. He kind of pisses us off too. Stop sitting at the tables with customers. It's creepy.
The Offers
Tim Love: $125,000 for 30% in Room 55, which he would then turn into 55 Steak.
Joe Bastianich: $100,000 for 25% equity in Room 55. He would put the money into fixing up Room 55 and then possibly open 55 Steak.
Offer Accepted: Joe Bastianich
Current Status:
Room 55 is operational in Queens. 55 Steak, as of this posting has not opened. Based on everyone's reactions to the food on the show and on the restaurant's Yelp page, we need to get there.
Trevor has moved on to work for a different restaurant.
Have a tip we should know? tips@mediaite.com