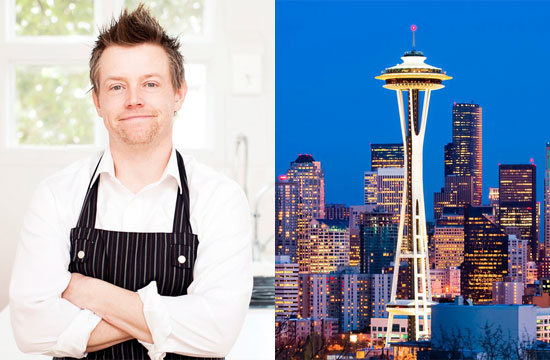 This morning Top Chef All Star winner Richard Blais announced quite mysteriously on Twitter that he was about to enter into a business partnership with a "Seattle based company" — and was currently staying in a hotel in the city!  He refused to give any further details, teasing a major announcement soon. But we at The Braiser are nothing if not prescient financial prognosticators, and Seattle is home to some of the country's most innovative companies. So, without further ado, here is our speculation on what Seattle-based companies Blais might partner with — and whether it will finally unleash him from the desiccated, chapped teat of the Top Chef franchise.
Company: Starbucks
Possible venture: A line of specialty coffee, brewed with molecular gastronomy techniques
Likelihood of success: High. The Mermaid is a stronger, wiser master than Andy Cohen, even if their coffee sucks. Also, Blais might be paid in coffee, keeping him wired forever.
Company: Amazon.com
Possible venture: Richard Blais-cooked meals, delivered via FREE Super Saver Shipping! Or Molecular Gastronomy Instant Downloads.
Likelihood of success: Probable, though your order may be broken down into parts due to availability, meaning that your dessert might be delivered prior to your steak course.
Company: Intellectual Ventures
Possible venture: Nothing. Richard would just get to play science all day long with Nathan Myrhvold.
Likelihood of success: Okay, Blais wouldn't really be doing nothing; he'd probably contribute to the company's massive patent arsenal that's pissed off all of Silicon Valley. So yes, if he works here, he would, quite likely, become a billionaire.
Company: Nordstrom (they're really based in Seattle!)
Possible venture: A line of children's wear, themed for girls around the color purple
Likelihood of success: Dubious — he's passionate for both his children AND the color purple (call him Alice Walker), but his taste is questionable.
Company: Tully's Coffee
Possible venture: Improving Patrick Dempsey's new coffee chain
Likelihood of success: Low. Blais, like every warm-blooded mammal out there, would fall prey to McDreamy's beautiful eyes, hypnotized to the point that he would cease working simply to stare forever into those sweet, sensitive windows at McDreamy's sweet, sensitive soul.
Have a tip we should know? tips@mediaite.com