Sarah Palin Tweets Chick-fil-A Visit; In Other News, Everyone Hates Chick-fil-A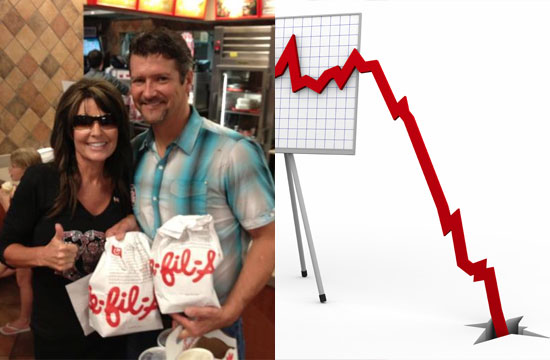 Because we would never dedicate a full story to Sarah Palin's opinions about the Chick-fil-A scandal, today we're splitting this post between two separate, clearly unrelated, pro-traditional values/anti-gay marriage fried chicken phenomena:
1) Sarah Palin tweeted and Facebooked this passive-aggressive photo of her covertly enjoying a sandwich at Chick-fil-A this past Friday. It is covert, because she wore sunglasses indoors to prevent herself from being recognized from all the Twitter fans that she inevitably tweeted the story out to.
"Stopped by Chick-fil-A in The Woodlands to support a great business," she wrote, and suddenly everyone had opinions about whether she was really a better VP choice than Mitt Romney back in 2008, or simply jumping on the conservative talking head bandwagon, or the greatest white person ever to descend from Alaska.
2) Today, market research firm YouGov BrandIndex released the results from a poll measuring how Chick-fil-A was perceived by the average American consumer. And the results are not that good for the company: before the scandal, the company's rating measured at a 64.9 out of 100, twenty points above its competitors.
In the past two weeks, however, their index score plummeted to a 38.7 out of 100. Out of customers who identified themselves as pro-LGBT rights, Chick-fil-A ranked -58 out of 100. (A score of 0 is completely neutral.)
"This will be bad for Chick-fil-A, and it's hard to say for how long," Ted Marzilli, senior vice president for BrandIndex, said to Nation's Restaurant News. "The brand's ratings for impression, reputation, satisfaction and respondents' willingness to recommend are all down significantly." He also noted that this was the lowest rating that the normally awesome Chick-fil-A had seen in two years.
We're not saying that there's a connection specifically between Sarah Palin's visit and this unfortunate brand imaging news, because such a link would be tenuous, politically charged, and reliant upon too many coincidences. It's just funny.
[Gawker, Nation's Restaurant News]
Have a tip we should know? [email protected]