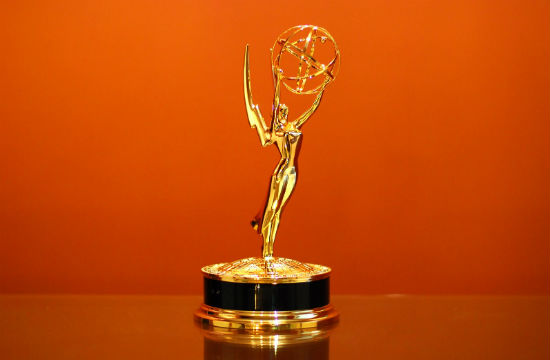 True, the Primetime Emmys aren't one of those sit-around-and-swill-champagne-while-picking-at-your-filet-mignon-and-gawking-at-Clooney-across-the-room soirees, but the stars do attend the Governor's Ball afterward for dinner, drinking, and all-around revelry. So what will the small screen stars be dining on this evening? Sadly, no Game of Thrones/Mad Men/Breaking Bad theme foods, but we found the scoop!
Chef Joachim Splichal of Patina Catering will be serving up the noms this evening at the Los Angeles Convention Center post-awards show. The signature cocktail of the evening (because every great party must have one) is brought to you by Grey Goose and dubbed — what else? — The Emmy. It contains Grey Goose Cherry Noir, St. Germain liqueur, lemon juice, pomegranate juice, and champagne. Sassy!
The first course is a smoked salmon and avocado salad with hearts of palm, cucumber, apple, red radish and heirloom tomato vinaigrette, which sounds impossibly refreshing.
Then, ladies who have been juice-cleansing to look their best in their Emmy gowns can finally boost their iron levels with the second course, roasted tenderloin of beef with balsamic grilled Portobello "fries," wilted baby spinach and sunchoke puree. We strongly encourage a few bites after those Cherry Noir cocktails.
And, for dessert, everyone will be attempting to avoid white chocolate raspberry sponge cake, which sounds sort of boring, so maybe it won't be that hard after all.
If you'd like to try your hand at your own Emmy dinner tonight, you can find the recipes for the dishes being served at LAist. You have like, six whole hours before the pre-show starts. It can totally be done. Pretend it's a Top Chef challenge. Go for it!
[LAist h/t The Daily Meal]
Have a tip we should know? tips@mediaite.com