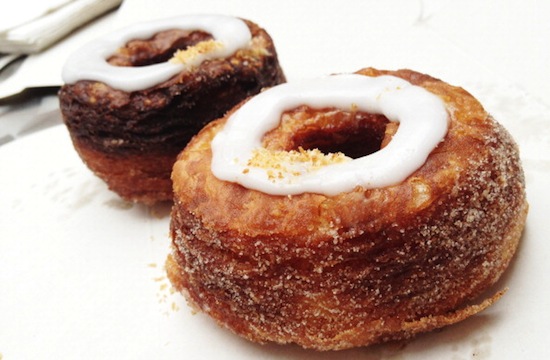 Easily the most existential piece about Cronuts you'll ever read — and perhaps the most sassy.
It's the New Yorker's food issue, which means that New Yorker writers take time out of their thoughts on terrorism and politics and national well-being to ponder that which is the Cronut. So naturally, a story on pastries includes references to Freud, Marxism, Ferran Adria (naturally), the history and role of the pastry chef, pre-Sex and the City New York City life, and the like. That enough for you?
Adam Gopnik stages the story as a "bakeoff" between the Cronut, made by Dominique Ansel at Dominique Ansel's Bakery, and the pretzel croissant, made by Maury Rubin at City Bakery. Which means we obviously get in some good jibes about the Cronut.
Rubin says, "When the Cronut became a thing, I just thought, Oh, my God, that's perfect! His croissant sucked, so he threw it in oil. And I think, Brilliant! He must have known, so he threw it in hot oil. What do I think of it? Because I've done this a long time now, and I care deeply about it, when someone comes along with something innovative I think deeply about it.

"I struggle to separate the blogosphere's role in it as compared to what's real work," he goes on. "I think of it as a hula-hoop moment, and unlike anything else in pastry time. It couldn't exist without the blogosphere. Most people don't know anything about good pastry anymore. What goes around is 'O.M.G.!' in a Yelp review, and I've seen the regard for really well-made pastry go down and down and down."
Whoops — sorry on behalf on the blogosphere.
Still, it's a decadent treat, says Gopnik, because we kind of just needed a fried croissant, OK?
The fetishized hybrid comes about when a commodity that's been around for a long time suddenly jumps up in price. Back in the excessive eighties, it was said that muffins and bagels had grown ridiculously big precisely as a substitute for real material goods: you couldn't buy a house, so you bought a big muffin. Now you can't buy a house or an apartment and your internship doesn't actually, you know, pay. So you get a croissant that's fried and sugared and filled and glazed.
All too true. Go ahead, read about the Cronut and feel infinitely smarter on your Monday. We're on our way out to get the cheapest, gooiest Dunkin' Donuts pastry a very fancy pastry ourselves. (Er, kale. We mean, it is Monday.)
RELATED: Here's the Official Recipe for the Cronut, Lose Your Minds Accordingly
Cronuts Aren't Going to a Be One-Hit Wonder for Dominique Ansel, OK Guys?
Guess Where Dominique Ansel Will Open His Next Bakery — Tokyo
Have a tip we should know? tips@mediaite.com