Top Chef Crewmembers Say Boston Teamsters Attacked Padma Lakshmi and Crew During Filming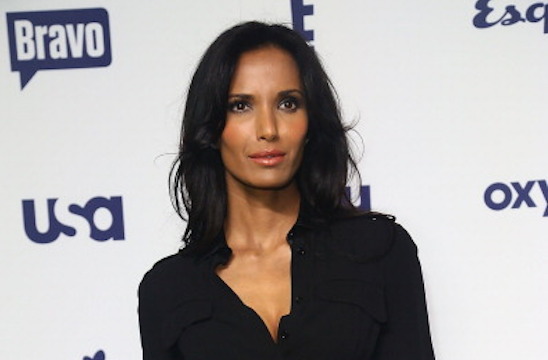 It's a pretty Top Chef heavy week and all, what with season 12 premiering October 15. But now crewmembers are exposing a pretty nasty incident between Teamsters and the crew of Top Chef that happened this last June, and are blaming both Bravo and the production company, Magical Elves, for putting the team in a dangerous situation.
Deadline reports that the brouhaha began because the production company did not sign a Teamsters Local 25 contract and instead "that the production hired local PA's to drive cast and crew vehicles." So a labor dispute, say the numerous (unnamed) crew members to Deadline, turned into a 12-hour hostile picket, with Teamsters screaming and threatening teamsters with the works: homophobic, racist, and sexist slurs. "They threatened to kill us, beat us, and said that they would find us and force us out of the city," said one crewmember to Deadline. Police arrived on the scene, which only escalated the situation; the Teamsters then allegedly slashed the tires on the crew members' cars and vans.
Padma Lakshmi got caught up in the crossfire:
By the time Top Chef host Padma Lakshmi's car pulled up to the Steel & Rye restaurant in the picturesque New England town of Milton just outside Boston, one of them ran up to her car and screamed, "We're gonna bash that pretty face in, you fucking whore!"

"She was scared," said a Top Chef crewmember who witnessed the incident, which occurred in June while filming an episode for the upcoming 12th season of Bravo's popular skein, … "He was screaming at her aggressively and violently."
And the real crux of it all is that the crewmembers say Bravo and Magical Elves shrugged their shoulders and said there was nothing they could do. And it went on for TWO WEEKS.
"…The executive producers, the representatives from the network, the production management, and the line producers stood by and did nothing," the crewmember continued. "They never addressed the problem with the staff, or apologized for putting us in such a bad situation. They never called a meeting with us, or sent the employees an email acknowledging what a terrible situation they put us all in." The local labor board told this member there was nothing they could do. So for two more weeks, "the picketers continued to subject us to threats of violence, sexual and racist harassment," the crew member said. "I was scared to go to work. We had to face this nightmare daily until we wrapped the show."
Of course, no one is commenting from the Teamsters side, or the Magical Elves side. Magical Elves sent a company-wide email to not talk to the press about the confrontation. Of all the things we thought would happen on a Boston location on Top Chef, this was not it.
[Deadline]
RELATED: Class of 2014: The New Cheftestants on Season 12 of Top Chef
The New Season of Top Chef Is Boston-tastic
Top Chef Season 12 Will Be Held in Boston; Here's Our Wish List for The Season
Have a tip we should know? tips@mediaite.com