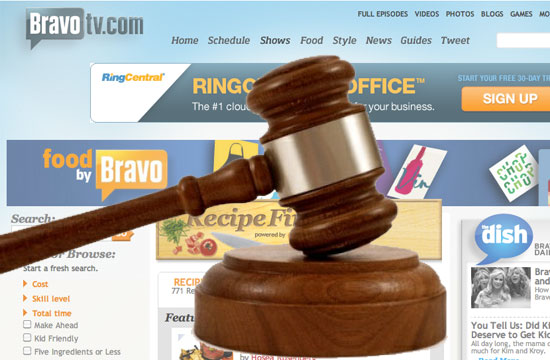 This is probably the equivalent of ambulance chasing, but instead of people being actually injured or whatever, The Bravo Network (specifically, Top Chef) is being sued by a Texas company over patent infringement. Were you aware that website designs can be patented?
The Hollywood Reporter wrote today that DietGoal Innovations, a meal-planning company based out of Austin, TX, filed a suit against Bravo, alleging that they'd ripped off their patented meal database for their Top Chef "foodie website" containing cheftestant recipes from all seasons of Top Chef. THR noted that they'd filed their vaguely accusatory suit in the US District Court of Eastern Texas, which is "notorious for being very friendly to patent plaintiffs thanks to 'rocket docket' allowances." Rocket dockets, for those of us without law degrees (we can't all be Eddie Huang), refers to courts which process cases and hands down judgements extremely quickly.
Also, Texas has a "long-arm" statute that allows its residents to sue nonresidents, if said nonresident did business and committed a tort in the state. So yes, Bravo filmed Top Chef in Texas, but pretty much anyone with a computer and wifi can access Bravo's websites, including, well, people in Texas. Boom! Instant tort.
And this is why DietGoal seems to be suing the crap out of everyone who has ever created a website about food, as they've simultaneously filed suits against 14 companies, including ConAgra, TIME Inc., Nestle USA, WebMD (?!), and Allrecipes.com.
Thanks, overly litigious American culture! This is why we can't have nice things. (Check it out! By linking to all these sites, I've facilitated a tort violation. Whatup.)
[h/t The Hollywood Reporter]
Have a tip we should know? tips@mediaite.com