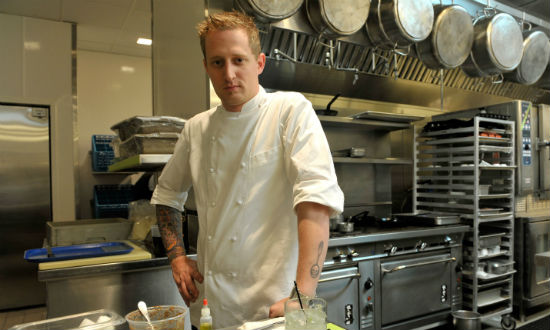 You remember Michael Voltaggio from Season 6 of Top Chef. He's the guy who won, beating out his brother, Bryan Voltaggio in the season finale. He also made an appearance on last week's episode of Top Chef as a guest judge.
Voltaggio never went to culinary school, unlike many of his cheftestants- he didn't have the money. But still, in 2011, Tom Colicchio told L.A. Magazine, "Out of all the cooks that have come through the show, Michael is the most talented—both from a sensibility and technical standpoint. He has the chops to pull off what he's trying to do."
In lieu of a traditional culinary education, Voltaggio learned in the kitchen. He began as an apprenticeship with The Greenbrier's program. After he completed the program, he worked in many different kitchens, including Charlie Palmer's Dry Creek Kitchen at which he earned a Michelin Star. During his tenure as Chef de Cuisine at The Bazaar by Jose Andres, during which the restaurant was nominated for a James Beard Award.
In 2011, he and his brother wrote a cook book called VOLT ink. in partnership with Williams-Sonoma. Later that same year, he opened ink. in Los Angeles, where he currently lives. ink. is a restaurant, where, according to its website, people are meant to come together. The menu is modern New American. He also opened ink.sack right next door. ink.sack is an exciting sandwich shop known for its long waits and for the wait being worth it. He makes four inch sandwiches for between $4 and $6 in varieties like "Cold Friend Chicken," "Tortilla Española" with caramelized onions, piquillo peppers chips, egg, manchego and mayo, and a "Veggie Banh Mi." Food & Wine named Voltaggio best new chef in 2013.
Voltaggio is such good a chef, his sous chef won Top Chef (Mei Lin, Season 12). There's a mouthful. A delicious mouthful.
Related:
Top Chef: Where Are They Now? Hosea Rosenberg
Top Chef: Where Are They Now? Carla Hall
Top Chef: Where Are They Now? Harold Dieterle
Have a tip we should know? tips@mediaite.com