Through Twitter, Chefs Spill The Beans On Who's Joining State Dept.'s Chef Diplomatic Corps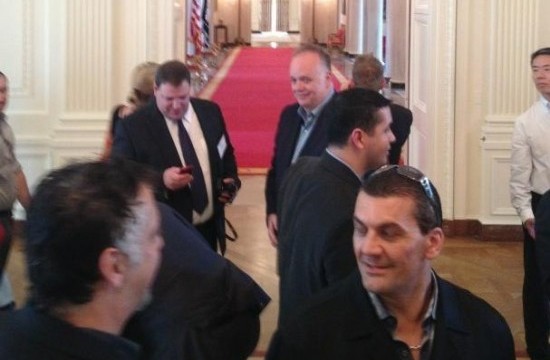 The US State Department's been pretty mum on whom they've selected to join their diplomatic corps, save for a few obvious names that they've released in the past few days: Jose Andres (obviously; the man loves sending hidden messages through food), Mike Isabella, and Rick Bayless were among the few named.
But thanks to the power of social media, we spotted a few chefs tweeting from inside 1600 Pennsylvania Avenue and the State Department, and a few more caught on camera, in advance of tonight's James Beard Foundation-sponsored event announcing the formation of the corps.
Not only have Top Chef buddies Richard Blais and Angelo Sosa been tweeting photos of the White House (and each other's chests), they also snapped pictures with Tony Mantuano and Rick Bayless. Kazuhiro Okochi of KAZ Sushi in DC, and Joe Cicala of Philadelphia's Le Vetri also somehow ended up in the East Dining Room, snapping photos of Sam Kass, Cristena Comeford and Bill Yosses. (My goodness, what are they doing in the East Dining Room? Surely it couldn't be because of the aforementioned event. Surely.)
Down in Foggy Bottom, Bryan Voltaggio not-so-mysteriously tweeted a photo of the Washington Monument. "Not a bad view at all from the Secretaries of State Terrace," he wrote, letting us know that he was probably going to jet off on a diplomatic mission to Tunisia or something at some point.
We'll probably find out the full lineup of chefs by the evening's end, and with this information, know that the delicate balance of  power in international relations is in their hands. At that point, you can thank Hillary Clinton for implementing such a delicious form of soft power.
Have a tip we should know? [email protected]