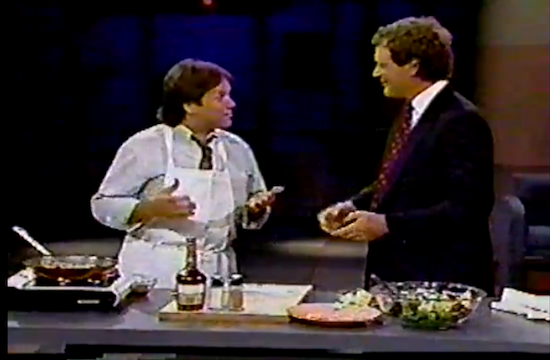 Today is Wolfgang Puck's 64th birthday, and what better way to celebrate the grand daddy of celebrity chefdom, the frozen pizza pioneer and hawker of cookware, than by remembering a time before he had most of those accomplishments beneath his toque. To wit: Dave Letterman introduces Puck in the video below as "the author of a cookbook, television personality and the owner of Spago." Okay, so he was already on TV, but "cookbook" singular? "Owner of Spago", not 'owner of too-many-restaurants-to-count-or-name'? That is old, guys.
My, how far the dump and stir segues have come, since this segment came out. Puck haltingly brings the conversation over to the dish he'd like to make, with this non sequitur: "I hear you're probably going to win an Emmy, I made a special chicken dish." The hints at celebrity chef neophytism just get better from there, so rather than embark on another birthday Tweet roundup (we tried, and found this), here are some things the land of cooking on TV, and certainly the Austrian empire-owning chef himself, have learned since this clip came out in 1989.
1. Not to give away secrets:
Puck starts the tutorial with "you can see we're already in the middle of cooking." Do you think Batali cops to prep-work being done during commercial breaks? No sir. Nowadays a TV chef knows he's supposed to maintain the illusion that a whole meal was thrown together in 95 seconds.
2. To use utensils:
Puck does everything with his hands – including pulling a disconcertingly gellied hockey puck of chicken stock out of a bowl, and placing a pat of butter into a sizzling pan. Poor hygiene and risking personal injury? The man truly lived on the edge. Today on TV, utensils are key (and a product placement opportunity!).
3. Not to insult Middle America:
"I was the only immigrant who immigrated to Indianapolis," Wolfgang says in a charming bit about where to find truffles. "And I only ended up there because I had no money to go any further." ZING! But seriously, there are probably some Hoosiers who never watched Letterman again.
4. Uh, what truffles are.
Can you imagine a time when we weren't sprinkling truffle oil on our popcorn like Old Bay on crabs? Me neither.
4b. To just not ever say that things "smell like sex."
Not ever.
Join us in wishing Wolfgang a Herzlichen Glückwunsch, by remembering a time when Letterman was funny, and food on TV was… kind of awkward.
RELATED:
Video Flashback: Remember That Small, Adorable Mario Batali Cameo In Fantastic Mr. Fox?
Photo Flashback: 13 Celebrity Chefs In Their Childhood Awkward Phases
Jon Favreau Continues His Militant Training For Chef Film, This Time With Wolfgang Puck
Have a tip we should know? tips@mediaite.com