WATCH: Danny Meyer Compares His Restaurant Empire to Cheers (Does That Make Him Sam Mallone?)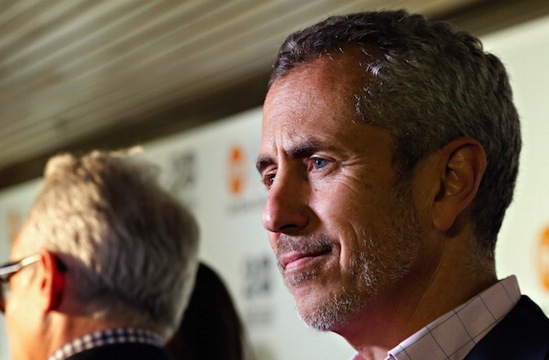 It's no secret that Danny Meyer is kind of a big deal in the hospitality world, and now we know why — his whole business model is based on Sam Mallone on Cheers. MIND = BLOWN.
OK, maybe it was a few other things too — most notably, Meyer says in a new interview with CBS This Morning, he's found his success by surrounding himself with the right people.
"I watched my own father go twice bankrupt by the time I was 21 years old; it made such a lasting impact. I associated his bankruptcy with expansion. It took a lot of years and self discovery to realize that, #1, I'm not my dad, but #2, it wasn't expansion that made him go bankrupt, it was the absence of surrounding himself with people who could do things even better than he could do them."
It's how he's been able "turn just about anything into gold," but it was also Meyer's quest to make people feel comfortable in his many, many restaurants.
"A great restaurant is one that just makes you feel like you're not sure whether you went out or came home. If you can do both those things at the same time, you're hooked… The one thing that can't be copied is how we make people feel."
And then, it just turns to pure gold. Says Meyer:
"Restaurants are a bigger version of being Norm on Cheers — you just want to be at a plce where everyone knows your name."
YES. This effectively makes Meyer into Ted Danzan, right? If Meyer opened up a Cheers-like bar, we'd be there.
[CBS]
RELATED:
Tonight in Food TV: David Chang and Danny Meyer Stop by Top Chef Restaurant Wars
WATCH: Danny Meyer Refuses To Put Shake Shack On Stock Market
Danny Meyer's New Delta Partnership Results In Sky Barbecue; Is There Anywhere On Earth He Won't Go?
Have a tip we should know? [email protected]