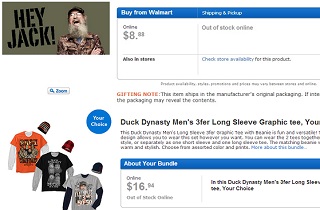 Several conservative media outlets have been gleefully reporting (Mediaite reported it, too, but not gleefully) that, in a "show of support" for embattled Duck Dynasty star Phil Robertson, fans have been "flocking" (get it? because ducks) to show their support by cornering the market on Duck Dynasty merchandise at Walmart stores. That may or may not be true, but the evidence presented for this stampede is that many Duck Dynasty items are "out of stock" at the retail giant's website.
As it turns out, though, almost all of the items being cited in these stories were already out of stock before Phil Robertson's offensive remarks about gay people and blacks in the Jim Crow South were even published. For example, here are the Google cache pages for several of the items, dated just prior to the controversy:
Unless Walmart sells a flux capacitor, the sold out Duck Dynasty merchandise on Walmart's website indicates that the items were popular before the controversy erupted, which is not news to anyone. However, some of the items that were listed "out of stock online" just a few days ago don't even show up on the site's search anymore, and now say "Not Available at this time," an indication that they may or may not be restocked.
Watch this space, though, because Cracker Barrel's decision to remove Duck Dynasty merchandise could cause a panic, and destabilize the entire beard-memorabilia market.
Update: The false stories have made the species jump to cable news. Here's George Will citing the faulty reporting, on Fox News Sunday (transcript here):
Have a tip we should know? tips@mediaite.com