WATCH: Mario Batali and Action Bronson Make Pasta With Special Ingredient Weed Smoke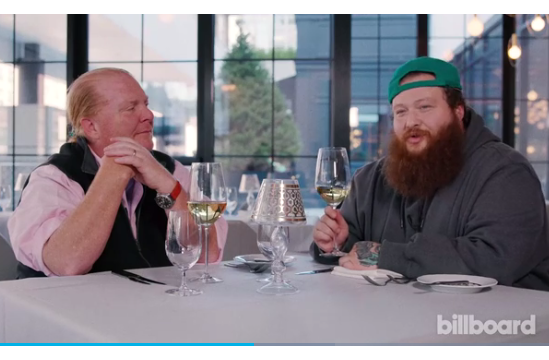 Action Bronson is a man of many talents. He's a chef, a rapper, and now a Television personality on the popular Viceland show "F*ck, That's Delicious." Mario Batali, too, has many talents, but the one I'm concerned with is that he makes insanely delicious pasta at high-end restaurants in the city that I can never get into. Related question, can someone get me in to Babbo on a Saturday night?
The two teamed up at Batali's newest venture with his business partner Joe Bastianich recently to make pasta with Octopus, garlic, onion, chile flakes, and some weed smoke for good measure. Fortunately, the dish seems like it came out a lot better than Batali's weed brownies.
The video, which appeared originally on Billboard, has an accompanying interview. Here are a few things we learned:
1. Batali "met" Bronson because of Batali's kids, who were fans of Bronson's music. Then, they officially met through Viceland. Based on the above video, the seemingly unlikely duo are actually a great pair.
2. Bronson used to be a power weight lifter who injected Testosterone. According to him, he was "f–ing jacked."
3. When Bronson cooks, he listens to Salsa music.
4. Batali's music-while-cooking preferences depends on the time of day, not the meal. "In the ­morning it's Bach concertos, by lunch Allman Brothers. When it comes to hip-hop there's only Bronson and Kanye."
5. Batali is "f–ing paralyzed in fear of sharks. That's why [he has his] house in Michigan: unsalted and shark-free."
6. Bronson won't eat Spanish Mackerel "The rankness of the fat — ­something about it turns [him] the f– off."
7. Batali doesn't like the fruit durian. He describes its flavor as "a baby's diaper that sat in a gas station bathroom."
[image via screengrab]
–
Have a tip we should know? tips@mediaite.com