WATCH: Nigella Lawson's First Interview Since Her Shocking Divorce And Trial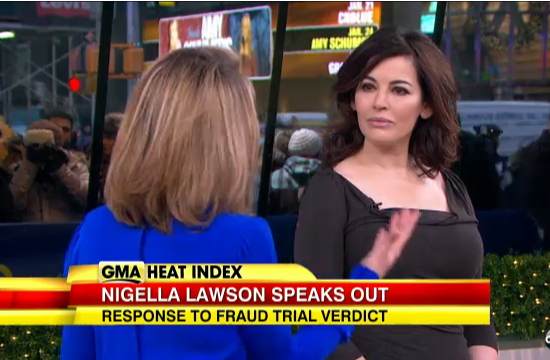 The lecterns were kind of a silly touch, but it was probably a way to get Nigella Lawson, who appeared on Good Morning America to promote the next season of ABC's The Taste, to open up about her tumultuous 2013 (to recap: this happened, then this, and then this, and finally, a public trial where she admitted to occasional cocaine and marijuana use in the past.) And her position: Goodbye 2013, it's time to move on from this ridiculous spectacle.
"To not only have moments of your private life, but distortions of your private life, put on display, is mortifying," Lawson said as her fellow judges (Anthony Bourdain, Marcus Samuelsson, and Ludo Lefebvre) stood by. "But there are people who are going through so much worse, and to dwell on it would be self-pity."
Hear, here — we've had such weird feelings covering this story over the past year that we would really appreciate it if her ex-husband Charles Saatchi would just shut up with his bizarre attempts at emotional manipulation for the rest of 2014. (For the record, he was the one who initially pushed the story that Nigella used drugs, then weirdly walked that statement back.)
Also, we're very forgiving in the USA! Besides, Colorado is lovely this time of year.
Watch her interview below:
RELATED:
Nigella Lawson Accused of Using Cocaine, Pot, and Prescription Pills Daily for a Decade
So Now Nigella Lawson's Ex Has 'No Proof' She Did Drugs
Breaking: Nigella Lawson Will Face Drug Investigation After All
Have a tip we should know? tips@mediaite.com