WATCH: PSY's Personal Chef Revealed after Winning Crazy Horse Dancing Contest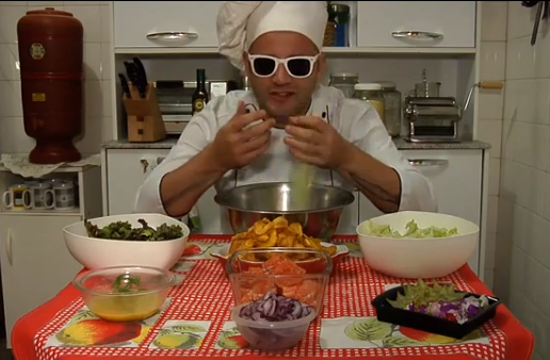 Months ago, Korean pop sensation PSY announced a contest to find a chef to follow him around the world (or Korea) for a month and cook him The Food Of His People. The qualifications, however, had nothing to do with technical ability and everything to do with style: could PSY's potential chef dance like a K-Pop star while cooking? And could they also videotape it? This week, Bibigo, the Korean bibimbap chain sponsoring the contest, announced the winner — and it's this guy:
Yes, Brazilian chef Ricardo Caput made that amazingly intense, magical video and won the contest, as well as $40,000 to cook food for the "Gentleman" singer for one month of his time. After spending a week at Bibigo's Korean headquarters and learning the secret arts of bibimbap, he took over the Bibigo truck for the month of July and got to cook for PSY twice. (Does that count as being "PSY's chef?")
And how did a Brazilian become so proficient in the arts of Korean food? "The thing that got me hooked, as a Brazilian, we use garlic, salt and pepper in almost the same way," said Caput to the LA Times. "It wasn't like wow, it tastes completely different from anything I've had before." The Brothers From Other Mothers (And Continents) then galloped into the distance, bonded by their common love of marinated, grilled beefs.
[LA Times via Food Republic]
RELATED:
Gangnam Style Vodka: Vodka To Make People Dance, Gangnam Style
WATCH: Jay Rayner Learns PSY's Famous Gangnam Style Dance For Journalism
Korean Megastar PSY Visited Michael White For Lunch Yesterday
Have a tip we should know? tips@mediaite.com