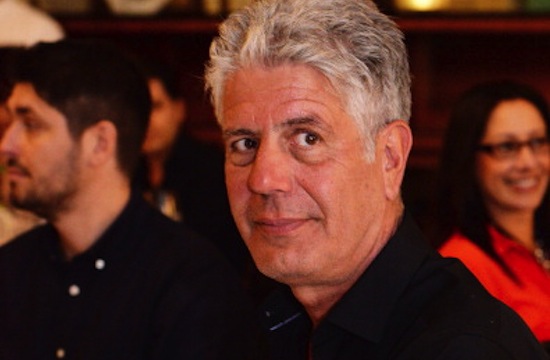 Let's recap all of the new projects Anthony Bourdain is working on, revealed in a new Toqueland interview: another book. Another publication under his line of books. Another documentary. The massive New York City street food market. All that plus Parts Unknown and Mind of a Chef (for which he just won a James Beard award) — seriously, Bourdain, share your secrets of how you do it all.
Hanging with Andrew Friedman of Toqueland, Bourdain talks about his game-changing moments of Kitchen Confidential, the nature of fame, and the reality of cooking today ("I don't delude myself into thinking that I'd be useful. I'd be a liability. I was in decline already at forty-four"). But he also shares all the different projects, which sound infinitely cool. Here's what to expect from Bourdain in the lineup:
A new Jiro book, this time a prequel about a young Jiro with a different artist at the helm: "I'm looking to do something kooky and very different. Different book, different look."
A new Shep Gordon ("the music manager who started representing and advocating for chefs in the early 1990s") memoir, published by Bourdain's line of books:
"Yes, I'm going to be publishing Shep Gordon. I chased him down. I saw [Mike Myers' new documentary about Gordon] Supermensch, and around a half a second later I was: 'Oh, my God, we've got to get Shep to write a book.' … A memoir, and there are certain things that we're talking about him reflecting on. He watched a lot of really brilliantly talented people move from obscurity to the peak of success to death and madness. So it's a reflection on fame as well."
A documentary of Jeremiah Tower, chef extraordinaire:

"He was the original. He was the first chef in America that you wanted to see in the dining room. He was the guy who transformed American menus from what they were to what they are now. He's a hugely compelling personality, a dangerous man. He's the history of everything. I mean, cautionary tale, inspiration. It's all there. It's a great story as well as an historical correction that needs to be made."
And of course, a much-publcized food hall:

I'm working hard on the food hall, the hawker center, which is looking to be pretty big. Can't really tell you more about it but we're getting some very, very, very interesting people involved. I mean, really mind‑blowing people. This will not be just another food hall. Not even close. It'll be, 'Holy shit.'"
Uh, holy shit for many reasons. Read the full interview here.
RELATED:
The Best Bourdain Answer from His Twitter Q&A: 'Deep Dish Is Not Pizza'
Tonight in Food TV: We'd Give Anything to Tour Lyon with Daniel Boulud and Anthony Bourdain
"Bourdain Parody of the Day: 'I Wear a Leather Jacket on My Heart and I Have Cigar Eyes'
Have a tip we should know? tips@mediaite.com