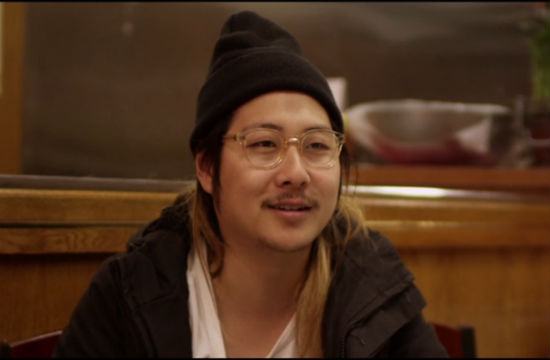 And killing it in the New York Times, evidently.
The Times has the scoop on what appears to be Bowien's comeback: the reopening of Mission Chinese, this time in a new location. What we're finding is a new perspective on Bowien's year, of which he has spent mainly out of the spotlight (save for suing his former landlord from Mission Chinese and having a beautiful baby). Turns out, all the bigwigs like René Redzepi and David Chang told him to get back in the kitchen — and prepare for the worst. (Seriously, Redzepi's never sounded more cryptic.) From the Times:
The news [that Mission Chinese had been shut down by the Department of Health], he said, left him in a state of paralysis. He felt overwhelmed, embarrassed and worried for his staff. He knew he had to fly to New York to face the crisis, but he had committed to a Bay Area cooking event. He wasn't sure where to turn.

Then his phone rang. On the other end he heard a voice with a familiar Danish accent. It was René Redzepi, the chef behind Noma in Copenhagen, arguably the world's most acclaimed restaurant. "And he was like, 'Chef, are you ready?' " Mr. Bowien said. " 'They're coming for you. They smell blood. You're hurt, you're wounded and they're going to come for you.' "
Even Chang and Ed Levine (from Serious Eats) came at the DOH troubles at Mission Chinese with a "all hell is loose" sort of mentality; Levine assigned the problems of the last year to "a matter of a relatively inexperienced chef-restaurateur not understanding the vagaries of New York restaurant real estate." Boom. The closure affected his work on Mission Cantina too, for which Bowien readily admits he wasn't ready:
… He was in the midst of opening a Lower East Side taqueria, Mission Cantina, but he now admits that dealing with the health department issues distracted him and scotched a crucial research trip to Mexico, which meant that he unveiled Cantina before it was ready.

Looking back, he thinks he played it too safe with the food, choosing an attempt at authenticity instead of firing up the cross-cultural flavor detonations that had made him famous. "I wasn't doing what we do best, and also I had lost all my confidence," he said. After eating at Cantina, Mr. Redzepi sent Mr. Bowien an email bluntly stating that his tortillas needed an upgrade. Reviews were middling.

"People were slamming Cantina," Mr. Bowien said. "I took it personally. I didn't know how to handle that."
So now what? Is the New York Times (re: the rest of the food world) ready to put Bowien back on top? Uh, in a word, yes. Already the Times can't stop raving about the new location and how "grown up" Bowien is. From the Times:
But the new space at 171 East Broadway, which housed the restaurant Rosette, is more civilized. With cozy banquettes, big round tables equipped with lazy susans, a Mylar-festooned private dining chamber that looks like something out of Andy Warhol's Factory and two elegant cocktail bars, it feels like a luxe Chinese banquet hall for the same audience that clamors for Carbone. This is the Mission Chinese you can bring your parents to.
Merry Christmas, ya filthy animals — BOWIEN IS BACK.
Have a tip we should know? tips@mediaite.com