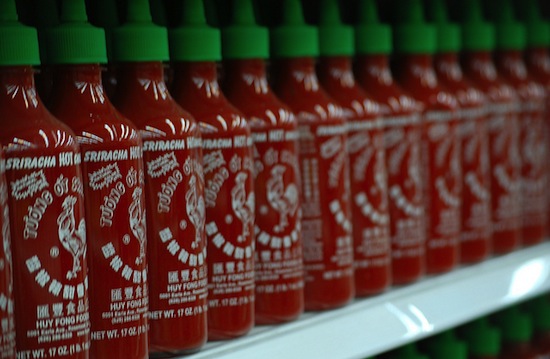 Did you cry a sigh of relief when Sriracha operations in California were saved by the government? Yeah, don't get too comfy.
Had it not been for the government denying a request from the city of Irwindale, CA to temporarily shut down operations, said the founder of Huy Fong Foods, David Tran, the company would have lost $10 million and faced bankruptcy, according to The Los Angeles Times. On November 22, the company will face another injuction to determine whether a stop to the factory's operations — you know, that factory where people's faces are melting off because of the spiciness being made — is granted.
In his statement, Tran accused the city government of acting irrationally without a real investigation; he also noted that the first documented complains about the factory's smell "originated with an Irwindale city councilman's son." What's also problematic is the company's business transactions with the city of Irwindale, CA:
Huy Fong Foods decided to locate its factory in Irwindale three years ago when the city offered a loan with "irresistable" terms: pay only interest for 10 years, with a balloon payment at the end.

Huy Fong took the loan and contributed $250,000 a year to the city of Irwindale each year as part of the deal, Tran said. The company then built a $40-million factory that at full capacity could generate about $300 million a year in sales, according to Tran's statements.

But after complaints about the smell began last year, Tran said he began to get an "odd feeling" about the city's behavior. In response, the company has taken out a loan with less favorable terms from East West Bank to pay off the city's loan.
And the city of Irwindale is hardly taking it lying down. In a response to Huffington Post about all the Sriracha hoopla, Irwindale city attorney Fred Galante says the smell is documented. Said Galante, "I'm not sure why [Tran] believes an investigation is warranted when we have over 30 witnesses that are suffering from this odor. It's hard to see how we're being unfair."
What to do? We say eat all the Sriracha ever, obviously.
RELATED:
tktk
LAST CALL: Marrying a Chef Is Like Marrying a Normal Person, Weird
WATCH: A Sriracha Documentary That Will Drown Your Eyeballs In Rooster Sauce
Have a tip we should know? tips@mediaite.com