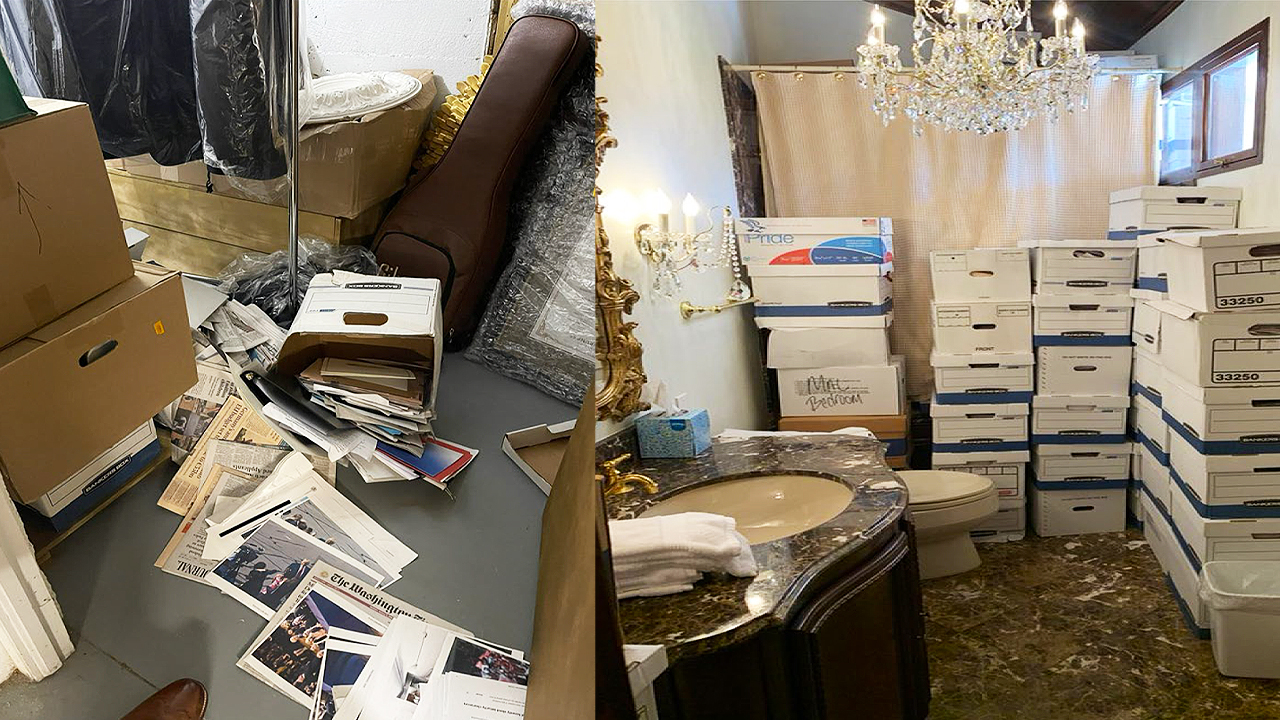 The 37-criminal count indictment against former President Donald Trump, made public on Friday, laid bare stunning allegations and evidence that the 2024 GOP frontrunner risked exposing highly classified national security secrets after leaving office.
The 49-page indictment clearly accuses the former president of mishandling classified documents related to the U.S. nuclear program and possible domestic national security weaknesses. The damning document, which includes transcripts of Trump on tape admitting to retaining the documents, also includes his lawyers recounting in detail Trump's desire to lie to government officials to retain the documents.
Below are five stunning details from the federal indictment:
Military secrets in docs
Perhaps the most devastating part of the indictment is the clear description of the contents of the documents Trump took home with him.
"The classified documents TRUMP stored in his boxes included information regarding defense and weapons capabilities of both the United States and foreign counties; United Slates nuclear programs; potential vulnerabilities of the United States and its allies to military attack; and plans for possible retaliation in response to foreign attack," reads the indictment.
It continues:
The unauthorized disclosure of these classified documents could put at risk the national security of the United States, foreign relations, the safety of the United States military, and human sources and the continued viability of sensitive intelligence collection methods.
Another part of the indictment includes a transcript of Trump on tape asking "Isn't it amazing?" as he shows off a document regarding intelligence on Iran. Trump tells the visitors to his Bedminster, New Jersey golf club that military commanders "presented me this."
"See as president I could have declassified it," Trump adds, but later says, Now I can't, you know, but this is still a secret."
Trump removed boxes from Mar-a-Lago as lawyer claimed no more were there
Another stunning detail from the indictment is the fact that Trump removed boxes of documents from Mar-a-Lago the same day one of his attorneys gave a certified letter to authorities claiming no more documents were at the property. The indictment also names Walt Nauta, a Trump aide, as a co-conspirer who allegedly helped Trump hide documents.
"Shortly after Trump Attorney 3 executed the false certification, on June 3, 2022, Trump Attorney 1 and Trump Attorney 3 met at The Mar-a-Lago Club with personnel from the Department of Justice and FBI," the indictment reads. Former OAN host Christina Bobb has widely been reported to be the Trump lawyer who signed the "false certification."
"Trump Attorney 1 and Trump Attorney 3 turned over the Redweld folder containing documents with classification markings, as well as the false certification signed by Trump Attorney 3 as custodian of records. TRUMP, who had delayed his departure from The Mar-a-Lago Club, joined Trump Attorney 1 and Trump Attorney 3 for some of the meeting. TRUMP claimed to the Department of Justice and FBI that he was 'an open book,'" the indictment continues, adding:
Earlier that same day, NAUTA and others loaded several of TRUMP's boxes along with other items on aircraft that flew TRUMP and his family north for the summer.
The indictment further alleges that Nauta removed some 30 boxes from Trump's private residence to a storage room at Mar-a-Lago before the lawyers conducted a search for documents in early June.
"In sum, between May 23, 2022, and June 2, 2022, before Trump Attorney 1's review of TRUMP's boxes in the Storage Room, NAUTA—at TRUMP's direction—moved approximately 64 boxes from the Storage Room to TRUMP'sresidence and brought to the Storage Room only approximately 30 boxes. Neither TRUMP nor NAUTA informed Trump Attorney 1 of this information," the indictment concludes.
Trump was personally involved in taking docs
The indictment also claims that Trump himself helped to pack boxes from the White House, which rebuts a common defense of Trump, the notion that his retention of documents was a clerical error by his staff and not intentional.
"In January 2021, as he was preparing to leave the White House, TRUMP and his White House staff, including NAUTA, packed items, including some of TRUMP's boxes. TRUMP was personally involved in this process. TRUMP caused his boxes, containing hundreds of classified documents, to be transported from the White House to The Mar-a-Lago Club," the indictment reads, adding:
From January through March 15, 2021, some of TRUMP's boxes were stored in The Mar-a-Lago Club's White and Gold Ballroom, in which events and gatherings took place. TRUMP's boxes were for a time stacked on the ballroom's stage, as depicted in the photograph below (redacted to obscure an individual's identity).
Classified docs in the shower
The indictment includes several stunning images of boxes of documents, including one of a bathroom.
"The Mar-a-Lago Club was an active social club, which, between January 2021 and August 2022, hosted events for tens of thousands of members and guests," the indictment reads, making clear the documents were not in a secure facility.
"After TRUMP's presidency, The Mar-a-Lago Club was not an authorized location for the storage, possession, review, display, or discussion of classified documents. Nevertheless, TRUMP stored his boxes containing classified documents in various locations at The Mar-a-Lago Club-including in a ballroom, a bathroom and shower, an office space, his bedroom, and a storage room," adds the indictment.
Trump told lawyers "isn't it better if there are no documents"
The indictment also goes into great detail regarding Trump's suggestions of how best to deal with authorities attempts to retrieve the documents. Two of Trump's lawyers recounted a meeting with Trump after "the May 11 Subpoena requiring the production of all documents with classification markings in the possession, custody, or control of TRUMP or The Office of Donald J. Trump."
"Trump Attorney 1 and Trump Attorney 2 told TRUMP that they needed to search for documents that would be responsive to the subpoena and provide a certification that there had been compliance with the subpoena," the indictment reads, adding:
TRUMP, in sum and substance, made the following statements, among others, as memorialized by Trump Attorney 1:

a. I don't want anybody looking, I don't want anybody looking through my boxes, I really don't, I don't want you looking through my boxes.
b. Well what if we, what happens if we just don't respond at all or don't play ball with them?
c. Wouldn't it be better if we just told them we don't have anything here?
d. Well look isn't it better if there are no documents
"Attorney 1" is then quoted recalling Trump praised whoever deleted Hillary Clinton's emails, saying, "he did a great job" – with clear the implication Trump was looking for someone similar to help him out.
Have a tip we should know? tips@mediaite.com
Alex Griffing - Senior Editor