FLASHBACK: MSNBC Hosts Questioned Vaccines and Derided Trump's 'Obsession' With Them
At least three prime time MSNBC hosts have changed their tone on Covid-19 vaccines since 2020, Twitter archives reveal.
The three hosts — Joy Reid, Chris Hayes, and Rachel Maddow — have led their network in taking an aggressively pro-vaccine stance in recent days. MSNBC host Chris Hayes attacked competitor Fox News over the issue as recently last week, saying, "The dominant perspective of that network from the beginning of the pandemic has been, 'Who cares if all those people die? They're old, poor or sick anyway.'"
His colleague, Maddow, suggested in May that she correlated people who didn't wear masks with people who rejected vaccines. "I feel like I'm going to have to rewire myself so that when I see someone out in the world who's not wearing a mask, I don't instantly think, 'You are a threat,'" Maddow told her viewers. "Or you are selfish or you are a covid denier and you definitely haven't been vaccinated. I mean, we're going to have to rewire the way that we look at each other."
And Reid used her program this month to suggest banning unvaccinated people from entering some public locations. "It's the way France did it," Reid said. "They said fine, you don't want want to get vaccinated? You can't go to public events, you can't go on a cruise, you can't come to this business, you can't come to the party."
The comments contrast markedly with opinions they shared on Twitter last year, when Hayes used the platform to deride former President Donald Trump's "obsession" with vaccines after his administration celebrated that a vaccine had been developed in just days.
"Trump's obsession/focus on a vaccine is nuts," Hayes wrote in March 2020. "It is totally immaterial to the short-term challenges, which are substantial."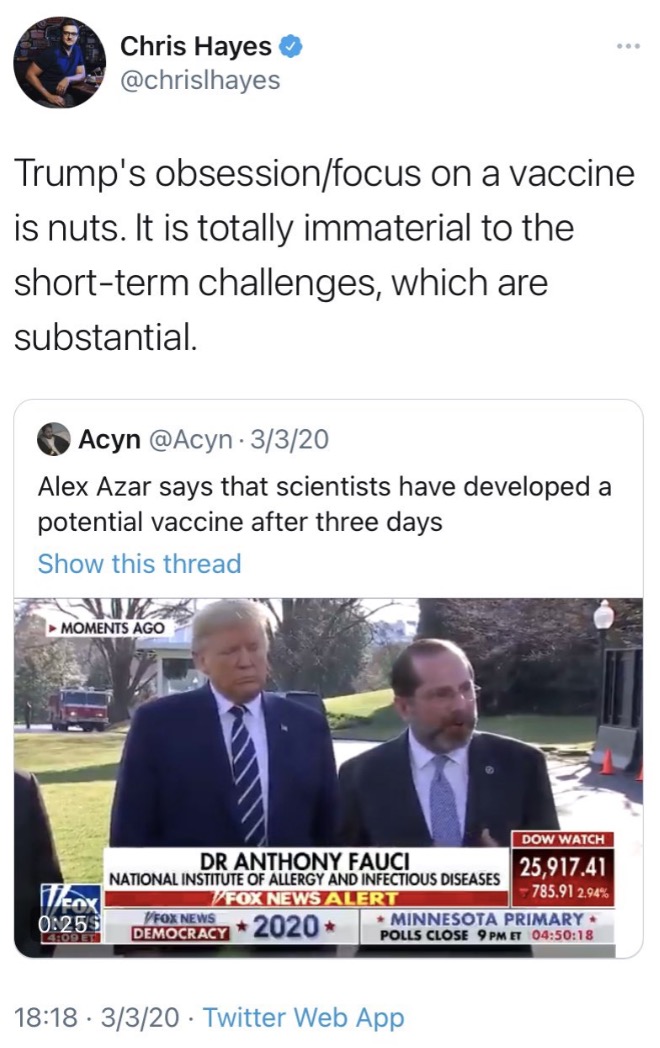 Maddow, meanwhile, quoted a Washington Post column in October, two months before the Food & Drug Administration bestowed its approval on the first Covid-19 vaccines. She quoted the column as stating, "Trump has plotted with his team on a pre-election promotional campaign to try to convince voters a vaccine is safe, approved and ready for mass distribution — even if none of that is true yet."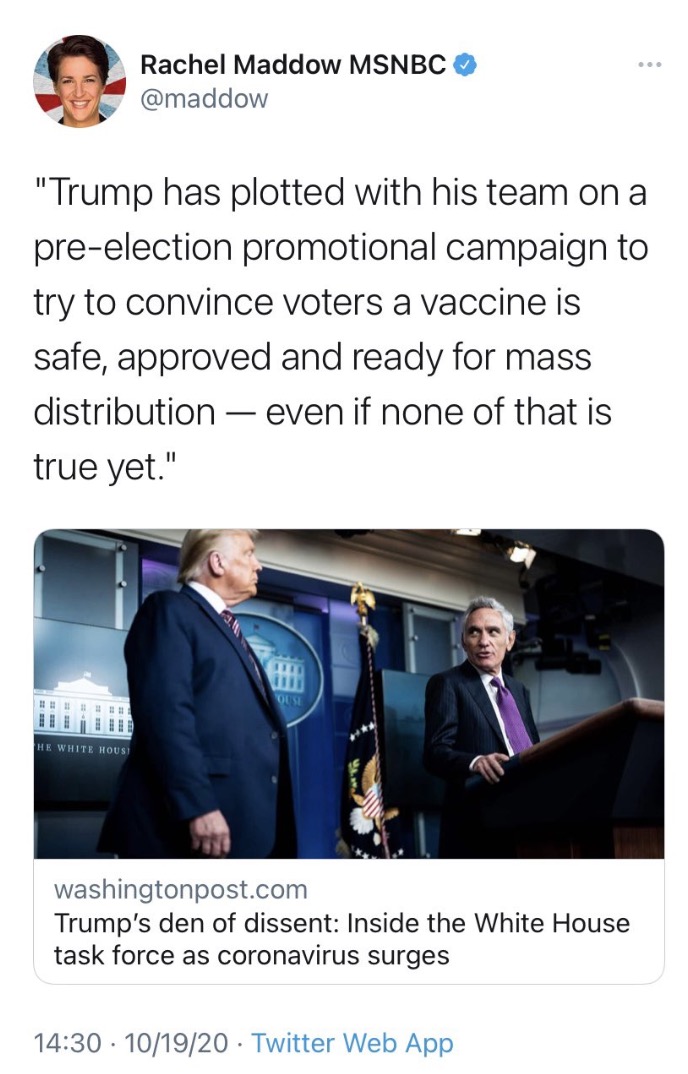 Reid took the criticism a step further in September, aiming her broadside at both the FDA and the Centers for Disease Control and Prevention.
"I mean, will anyone … anyone at all … ever fully trust the CDC again?" Reid wrote. "And who on God's earth would trust a vaccine approved by the FDA? How do we get a vaccine distributed after this broken, Trumpist nonsense has infected everything? Even if Biden wins?"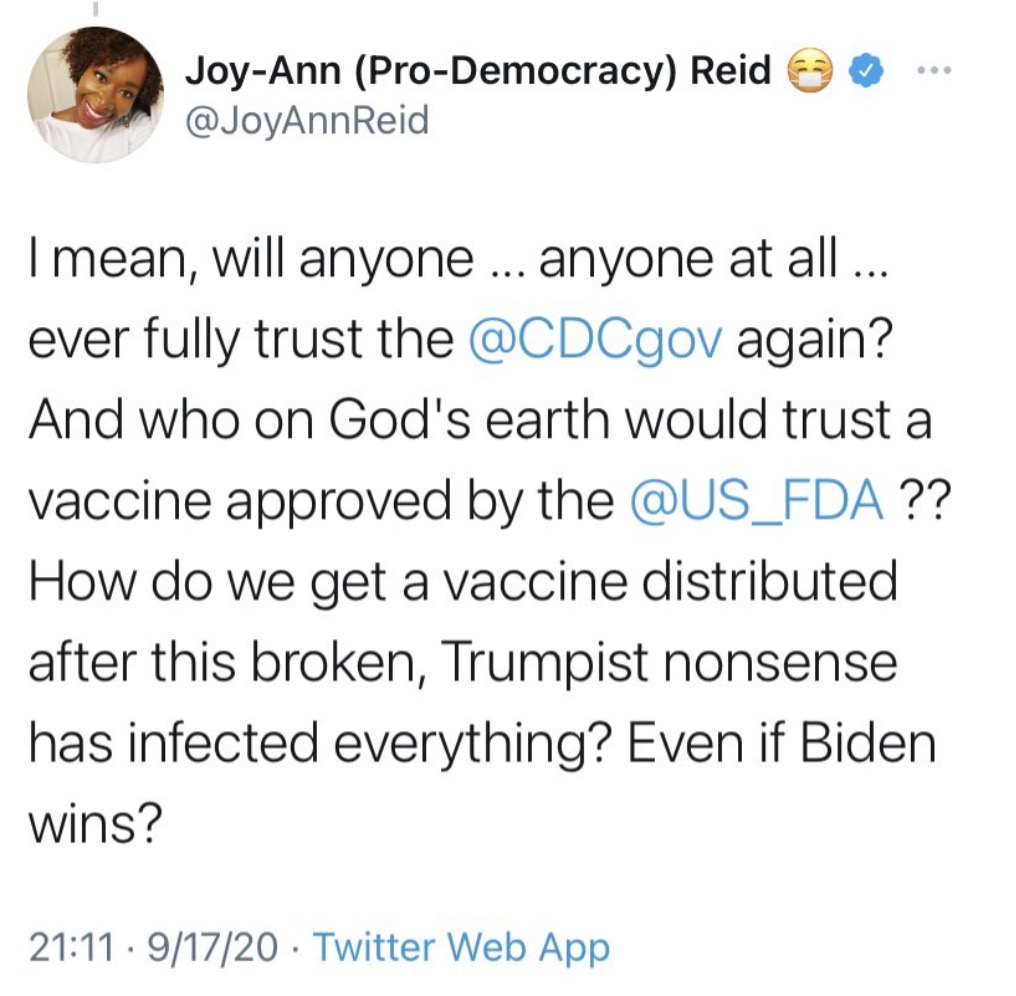 Have a tip we should know? tips@mediaite.com