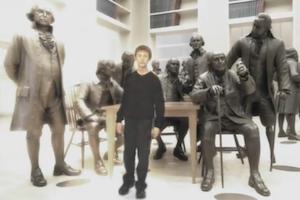 Way to go, nation! Way to go! You've really done it this time. With all of your socialism and Big Government bullying, you've made 14-year-old Kory Shore cry. A lot. He's singing all about it in a new song that his YouTube page says he wrote and produced. He seems really distraught. I mean, we're all pretty down in ninth grade, but most
of us are only thinking about whether the pretty girl in science class even knows our name. Not the fate of the country.
Really, I think someone needs to cheer this poor kid up. Isn't there anyone around who can show him that being a kid can be fun? Maybe we can make an "It Gets Better" campaign for Shore and all the other children out there being bullied by progressives. Only this campaign will be called the "It Will Never Get Better Because Our Country Has Lost Its Way And Your Generation Will Never Know America The Way It Truly Should Be But, At The Very Least, Your Parents Will Bring You To Some Pretty Rad Rallies In The Meantime" Project. Either that or we could set little Kory up with Rebecca Black! She knows how to look on the bright side and have fun, fun, fun, and fun.
Whatever the case, America, give this video a watch, think about what you've done, and remember, while sticks and stones are bad, it's forgetting this country's ideals that really hurt!
P.S. We've written about so many great Tea Party anthems. Where are the Progressive songs? Are they just not going on YouTube because they're all 25 minute long hippie jam sessions?
(h/t Videogum via The Daily What)
Have a tip we should know? tips@mediaite.com