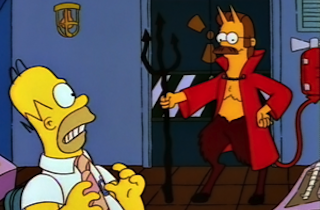 As the rest of the world celebrates the birth of noted caucasian Jesus Christ, Mediaite takes a look back at the minor but tireless battles fought this year by the Satanists, a merry, narrow band of trolls who succeed just enough to live rent free in the unlit attics of their enemies' minds. All hail our half-inflated dark lord!
Satanists vs. Fred Phelps
You may remember that Westboro Baptist Church founder Fred Phelps died this year. (Or, even better, you may have already forgotten his wretched existence!)
The Westboro Baptist Church has made an atrocious vice out of picketing the funerals of everyone from school shooting victims to Marines killed in combat, all ostensibly to object to the homosexualization of American society. In return, Satanists held a "pink mass" on the grave of Phelps' mother to posthumously turn her gay — an act they promised to repeat for Phelps.
"As I have made a promise to a dying man, I fully intend to do my very best to see it through," Satanic Temple spokesperson Lucien Graves said, "and the pomp and circumstance of this Pink Mass will surely far, far exceed that of the original event in Meridian, Mississippi."
Satanists vs. Hobby Lobby
The Satanic Temple took note of the Supreme Court's Hobby Lobby ruling and came up with some exemptions of its own.
"While we feel we have a strong case for an exemption regardless of the Hobby Lobby ruling, the Supreme Court has decided that religious beliefs are so sacrosanct that they can even trump scientific fact," Graves said last July.
"This was made clear when they allowed Hobby Lobby to claim certain contraceptives were abortifacients, when in fact they are not. Because of the respect the Court has given to religious beliefs, and the fact that our our beliefs are based on best available knowledge, we expect that our belief in the illegitimacy of state­ mandated 'informational' material is enough to exempt us, and those who hold our beliefs, from having to receive them."
Satanists vs. Harvard
Satanists tested the limits of well-intentioned liberal inclusion last May when the Temple petitioned to hold a black mass at Harvard, the university made famous by the film With Honors. The proposal invoked howls of protests from Harvard's Catholic community up to the Archdiocese of Boston.
Harvard president Drew Faust called the mass "abhorrent," but said she would allow it to proceed, which it would have had the Harvard Extension School Cultural Studies Club not pulled its sponsorship from the event at the last minute.
Looks like the Satanists will have to hold their mass at Brown instead.
Satanists vs. the Oklahoma State Capitol Building Ten Commandments Statue
Satanists spent a lot of 2013 fighting/proposing a complementary statue to the stone Ten Commandments installation outside the Oklahoma City State Capitol Building. In January a Fox Business guest said Satanists should be able to erect their alternative structure — for the sole purpose of being shot next to it. (Bernard McGuirk later apologized.)
But the red man downstairs isn't done with that statue. In October a man drove into the installation, shattering it into pieces. Why would he do such a thing? Because, he said, Satan told him to.
Satanists vs. Fox News
Speaking of Fox News guests, Satanism, and Oklahoma (apparently a potent combo), Fox's in-house priest Father Jonathan Morris was not pleased about a Satanic mass that occurred in Oklahoma City's Civic Center in September. Officials said the Satanists had a right to the public event space, but Morris said the mass was not protected speech.
"When you have a group that does this," he said on Fox, "not just because they want to do their own little worship, but they are provoking anger and hatred among the community, the city can step in and say: 'That's not worship, that's not free speech, that's mockery, and you're inciting violence.'"
Reminding people like Morris that mockery is free speech is, at this point, pretty much the primary function of Satanists. Congratulations to Morris for playing his role with relish.
Satanists vs. Pope John Paul II's Blood
Thieves broke into the Church of San Pietro della Ienca in the Abruzzo region last January and, suspiciously, took only two items: a reliquiry of Pope John Paul II's blood, and a small gold crucifix. The specificity of the stolen items led Italian police to believe that Satanists had done the deed for the purposes of using the Pope's blood in a Satanic ritual.
The vial was one of only three extant samples of the Pope's blood, so here's hoping they got what they wanted out of it.
Satanists vs. LEGOs
A Polish priest in January condemned the Danish company that produces LEGOs for being in league with Lucifer, arguing that some of the tiny plastic characters were "tools of Satan that lead children to the 'dark side.'" (He has a theory, which you can read here, but which is not particularly compelling.)
The priest's accusation generated enough controversy that a spokesperson for LEGOs came out and denied it. "The beauty of our product is that you can play out whatever you like," the spokesperson said. That may be the precise problem.
[Image via screengrab]
——
>> Follow Evan McMurry (@evanmcmurry) on Twitter
Have a tip we should know? tips@mediaite.com