A First: Oscars Determine Gender Fluid Performer Is Eligible For Both Male and Female Categories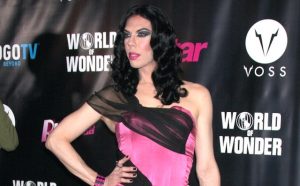 Although the nominations for the 89th Annual Academy Awards won't be formally announced until January 24th, the Academy of Motion Picture Arts & Sciences has also made a bit of history.
Kelly Mantle, a gender fluid performer who was born as a man, is officially up for consideration in both male and female acting categories.
Mantle, 40, is known largely from Ru Paul's Drag Race, earned critical acclaim in the indie film Confessions of a Womanizer as a transgender prostitute. So when it came time for the film's producers to submit the appropriate paperwork for Oscar consideration, they submitted Mantle as both male and female. The unique choice was confirmed to The Hollywood Reporter Friday.
Therefore, if Mantle earns a nomination for Confessions of a Womanizer, it may be in either a male or female category.
Mantle took to social media to acknowledge the moment, writing "Honored & humbled to be considered."
So this is happening… Honored & humbled to be considered. ? #actor #acting #actorslife ? #Oscars pic.twitter.com/5t9bpIQKu2

— Kelly Mantle (@thekellymantle) December 6, 2016
Lauren Booker explained the concept of gender fluid identity for CNN earlier this year, writing that "how one identifies can change every day or even every few hours. Gender fluidity, when gender expression shifts between masculine and feminine, can be displayed in how we dress, express and describe ourselves."
Jimmy Kimmel will host the 89th Academy Awards on Sunday, February 26, 2017 from the Dolby Theater in Los Angeles on ABC.
—
J.D. Durkin (@jivedurkey) is an editorial producer and columnist at Mediaite.
Image via Shutterstock
Have a tip we should know? [email protected]